Time for another weekly Upper Madison River fishing report. I've been out of the fly shop chasing largemouth bass in Georgia so I added a few shots from there. From what I've been told, the temperate fall fishing season keeps going and going and going…
Temperatures in the 70s in the middle of October are keeping this valley busy and lots of people are getting out to throw big streamers at some aggressive trout. The scuplin patterns were also working well in the black and olive colors.  The blue winged olives were coming off throughout the week and continue to do so. You can expect that to improve as the month progresses, especially on the overcast days.
In shop news, Dan Greene has made his annual pilgr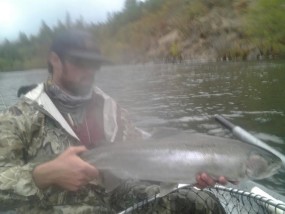 image to southern Oregon in search of steelhead. We haven't heard much from him and don't expect to really. He has become one with the river, fish and green trees. Rumor has it he wrangled a toad brown trout before he left. That image has yet to surface though so it's only hearsay at this point. But, here is the lone bit of communication we have had with him shared via Instagram. @nutcaseskier. Albeit blurry, it looks like he's doing just fine.
Also, as a reminder, we have rental gear on sale right now for 60-70% off. All of our boots and waders are in good condition. Some of our Dan Bailey's waders and Simms boots are in nearly new condition. We have a wide range of sizes still available.  Get them while they last.
-Parker Redmond