Dan and Nancy ventured off to the Rogue for their anniversary steelhead retreat. Dan got a chance to dust off his old Lavro drift boat. Here is his account:
Steelhead addiction was achieved for Nancy Delekta 13 years ago by her loving husband Mr. Delektable. My addiction for steelhead started when I was 14 years old- Thank you, Grandpa. The Rogue River steelhead of southern Oregon have been calling us in October each year for our wedding anniversary. We don't get to go every year and this year was limited to one week. Nancy and I spent a week fishing and hanging out at steelhead camp with our friends Jeff, Jewels, Andy, Steve, Cam, Dave, Heather, John and Hannah. Special thanks to Jeff and Jewels for the great meals and accomodations and Special thanks to Jack for selling our bugs at The Fishin' Hole Fly Shop in Shady Cove,  and to Angie for providing breakfast and our box lunches on the river. The Delektable flies that caught steelhead were:
#6-8 Delektable Bug Midnight Fire Flashback black/orange legs
#6-8 Delektable Bug Copper/Gold/Black with black legs and black/orange legs 
#8-12 Delektable BH Lime Juice
#8-12 Delektable BH Orange Juice
#8-12 Delektable BH CDC Baby
#8-12 Delektable Tungsten BH Red Headed Big Spankers
#12-14 Delektable Jig Hook Hammerhead Hare's Ear
#12-14 Delektable Jig Hook Hammerhead Prince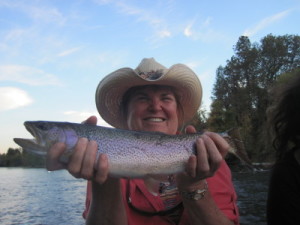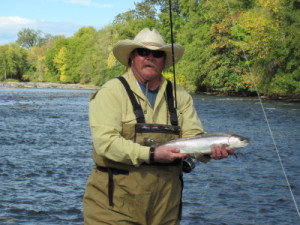 Nancy caught a nice sea run cut in addition to the steelheads she caught. She could also share with you an interesting story about a tooth ache and going to the dentist in Shady Cove to fix it.
Thanks Jenn, Parker, and Dan G for covering for Dan and Nancy.
-Parker and Nancy