Dan Delekta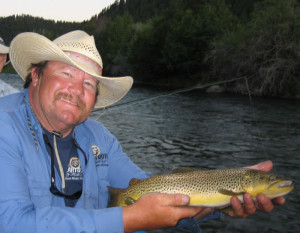 Dan started fishing when he was 2, encouraged by his Dad, who owned and operated sporting goods stores in upstate New York. He grew up fishing in and around the Adirondack Mountains, and his passion for trout and steelhead fly fishing eventually led him far from New York –to Montana, Idaho, Wyoming, Washington, Oregon and British Columbia. At 22, he moved to West Yellowstone, Montana.
Dan began tying flies when he was 10. He has since designed more than 800 patterns that are the trademark Delektable™ collection, and his passion for fly tying and design remains as strong as ever. He is constantly thinking about, designing, tying and field testing new designs on the legendary Madison River, just outside his door and other rivers he fishes and the ocean. His innovative patterns use both traditional and new age materials. Dan's creativity is also the catalyst for his rod building, which he started in 1975. He is now a master builder of custom graphite, fiberglass and bamboo rods, which make up his exclusive line of Beartooth Fly Rods. He started Beartooth Flyfishing in 1982, which also offers his Made in Montana braided leaders and hand-tied leaders.
Dan has guided on Montana's trophy rivers for over 30 years. He built the Beartooth Flyfishing Lodge in 1989, with the help of friends. He greatly values the friendships he has built over the years. His love of the mountains, the solitude and the peace of the Madison Valley is exceeded only by his love and appreciation of all the people he has embraced as his friends and extended family. Dan's passion for fly fishing remains strong by all the challenges and rewards it offers. He looks forward to continuing to create and innovate, to being in touch with nature, and to continue bringing the joys and deeper knowledge of fly fishing to more fellow lovers of the sport.
Dan can be reached by email: dan@beartoothflyfishing.com.
Nancy Alston Delekta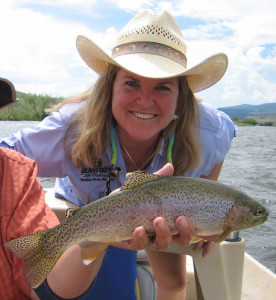 Nancy started fishing as a child on the Brandywine River in southeastern Pennsylvania, where she grew up. She also fished the saltwaters of Long Beach Island in New Jersey. Nancy began her love of fly fishing in the late '70s, while living in Vermont and New Hampshire. She later moved to Massachusetts, and continued traveling to fish in Massachusetts, Connecticut, Vermont, Maine, New Hampshire and the Gaspe Penninsula. Nancy was the only woman in a group of weekly fly tiers traveling to different states in the west and east to fly fish. During the early 80's, Nancy grew to know and love fly fishing in Montana. After the loss of her dad, she began to look for job opportunities in Montana, where she could pursue her loves of fly fishing and skiing. In 1999 she became CFO of H.S. Trask, a shoe company based in Bozeman. She rapidly became involved with fly fishing in the area and was soon named president of the local chapter of Trout Unlimited and Treasurer of the Whirling Disease Foundation. Nancy continues to help with these organizations when time allows.
During her time in Bozeman, she met Dan and they began fishing together; a partnership that quickly blossomed. They also recognized they approached fly fishing in the same way and always "fished hard." The couple wed in a very special ceremony on the Madison River, as their vows were carried out on the banks of the Beartooth property at what is now known as Wedding Rock.
Nancy's business acumen and long business experience has been an enormous benefit for Beartooth Flyfishing. Nancy loves retail; she grew up in retail. Her father owned a chain of retail stores where she began working when she was 12. Nancy loves the interaction with the people who come to the Beartooth Fly Shop, because they are happy, many are on vacation, and they are pursuing the sport they love. She continues working hard on expanding the retail activities of Beartooth Flyfishing, including the online store, all while trying to find more time to get out on the water and fish.
Nancy can be reached by email: nancy@beartoothflyfishing.com.
John "Grandpa" Delekta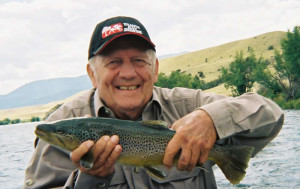 Dan's father, John "Grandpa" Delekta, began fishing when he was around 6. His interest in the outdoors led him to spend almost 40 years in the sporting goods business in upstate New York. During his early adulthood he was a spin fisherman, but later transitioned into fly fishing. Grandpa retired in 1990, the same year that Dan opened the Beartooth Flyfishing Lodge. Also in 1990, Grandpa began spending every summer at the Lodge, and had since become a full-time Montana resident. Along with fishing the Madison River, he also remained busy doing most of the packaging for the Beartooth product line. Even in his 80's,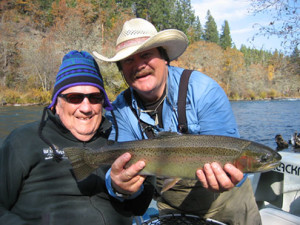 Grandpa worked almost every day, and was an invaluable member of the Beartooth team. He was noted for his merchandising acumen and the well known fly "six-packs" he created and helped maintain for the shop.
Grandpa really loved the time he spent fishing with his son and Nancy. He had also been with Dan and Nancy to the Rogue River in Oregon for steelhead fishing and to Andros Island in the Bahamas for great saltwater fishing. It's remarkable to consider that Grandpa and his son fished together for almost 50 years; a unique accomplishment in this day and age. Grandpa is now part of our loving family and fishing memories and will be missed. When we sit on the porch in his chair where he sat with Tippet by his side, we will be thinking of Grandpa.
Marty "The Montajun" Authement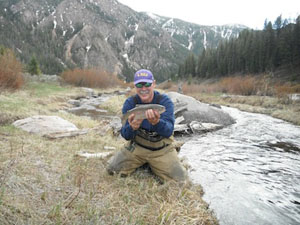 Marty was born and raised in southeast Louisiana and proudly lives the Cajun
lifestyle, fishing and hunting since childhood. He earned a mass communications degree, then worked for 10 years at his hometown newspaper, where he started as a reporter and left as editor of the Lifestyles Department.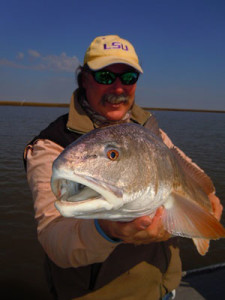 He was introduced to fly fishing in the early '80s during a trip to Montana, then carried these skills to Louisiana. When the time came to leave the newspaper, he become a full-time guide, and split his time between his two favorite places – pursuing trout in Montana, and chasing world-class redfish in the saltwater marshes of Louisiana. In addition to contacting Marty at Beartooth Flyfishing, you can also reach him at (985) 688-4495, by email at captmarty@internet8.net, or on his website at www.marshmadness.net.
Jennifer "Jenn" Durham Reints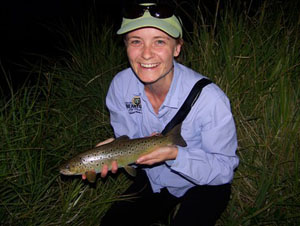 Jenn grew up mainly in the Madison Valley and started working for Beartooth in 2005. She helps in many facets of the daily business of Beartooth Flyfishing and also assists with the management of the guest lodge. Jennifer is an avid hunter, stalking deer, elk and antelope, an activity she has enjoyed with her father since childhood. Jennifer enjoys fly fishing and, like the rest of us, is always looking for more opportunities to get out on the water.
Jenn is also a practicing taxidermist, a passion since she first discovered her dad's deer heads on the wall. An wildlife enthusiast, she has pursued this as a career for most of her life, always learning how to work with as many species as possible in order to prepare herself for this career. She opened up her business to the public after building a new shop in 2008.
For more info on her Taxidermy work contact her directly at 406-682-3357 or 701-928-0453. Her website is www.willowgrovetaxidermy.freehosting.net where you will find photos of current work she has done and a price list and policy page is also there.   There are few specimens she won't accept, so consider Jenn at Willow Grove Taxidermy for your next piece of wildlife art to capture that lasting memory.
Dan Greene
Insane, wild and crazy, untamed, undomesticated, extreme, very easy going, and very HIGH spirited. These are some of the attributes of a boy, who just can't stand to color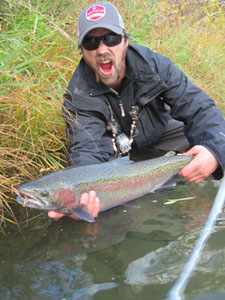 inside the lines and loves to live life large, Dan was born at a very young age and grew up on a dairy farm in Potter County, Pennsylvania. He was inspired by his Great Grandpa Frances to use a fly rod to get fish. After hooking his first trout with a bamboo fly rod on a hare's ear nymph at the age of 8 all by himself (with Grandpas advice), he was how do you say… hooked 🙂 After high school couldn't handle him anymore he was turned loose to college in Wisconsin for a bit where he decided that was not for him either. He moved to eastern Montana in early 2006 to work on a ranch and then moved to Big Sky the following winter where he continued to rage his face off skiing and fishing for the next 7 years. When he's not back-flipping off cliffs and straight-lining some crazy technical chute, he's off fishing with his dog Roy on some epic Montana river chasing the bite and running from bears and moose. He is camping on the Madison River this summer where he will relentlessly lay siege on the fish he is no doubt obligated to chase. Wind, rain, hail, snowy blizzards, and yes even a sunny day will not stop this maniac from soaking up all there is to get out of this crazy life. He will truck camp anywhere the ole Toyota can get to, fish until the rooster crows (even past that), and ski anything and everything that is life threatening or just plain needs to be skied. Live Life Large!!!
Roger Oettli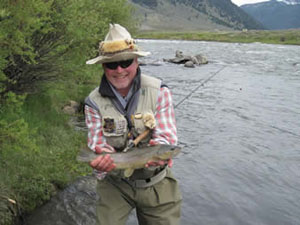 What can we say about Roger except we just love him and his love of fishing, women, wisky, and steak. We don't know if that is the correct order of choices. He is well educated and is living his second life in the fishing world and is really enjoying it. He is also our Mr. Clean and you will see him in the shop cleaning up or selling or off on a shuttle.
Gregg Machel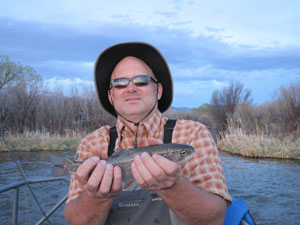 Gregg is Beartooth Flyfishing's Web Designer. He has extensive experience in web design and has joined that to his love of fly fishing to design a number of fly fishing websites, among them www.kiene.com in Sacramento, California, where he lives. When he isn't building websites, Gregg can usually be found on the American, Yuba or Delta Rivers, with his son, Jonathan. When given the chance, he also fishes a variety of Montana waters. Gregg is a certified IT Engineer and is currently working as a Web Specialist for Sutter Health in Sacramento.
Gregg can be contacted at gregg.machel@gmail.com.