Dan Delekta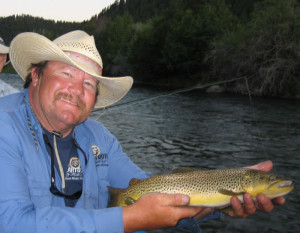 Dan started fishing when he was 2, encouraged by his Dad, who owned and operated sporting goods stores in upstate New York. He grew up fishing in and around the Adirondack Mountains, and his passion for Trout and Steelhead fly fishing eventually led him far from New York –to Montana, Idaho, Wyoming, Washington, Oregon and British Columbia. At 22, he moved to West Yellowstone, Montana.
Dan began tying flies when he was 10. He has since designed more than 1,000 patterns that are the trademark Delektable™ collection, and his passion for fly tying and design remains as strong as ever. He is constantly thinking about, designing, tying and field testing new designs on the legendary Madison River, just outside his door and other rivers he fishes and the ocean. His innovative patterns use both traditional and new age materials. Dan's creativity is also the catalyst for his Rod Building, which he started in 1975. He is now a master builder of custom Graphite, Fiberglass and Bamboo Rods, which make up his exclusive line of Beartooth Fly Rods. He started Beartooth Flyfishing in 1982, which also offers his Made in Montana braided leaders and hand-tied leaders.
Dan has guided on Montana's trophy rivers for over 40 years. He built the Beartooth Flyfishing Lodge in 1989, with the help of friends and opened in 1990. He greatly values the friendships he has built over the years. His love of the mountains, the solitude and the peace of the Madison Valley is exceeded only by his love and appreciation of all the people he has embraced as his friends and extended family. Dan's passion for fly fishing remains strong by all the challenges and rewards it offers. He looks forward to continuing to create and innovate, to being in touch with nature, and to continue bringing the joys and deeper knowledge of fly fishing to more fellow lovers of the sport.
Dan can be reached by email: dan@beartoothflyfishing.com.
Nancy Alston Delekta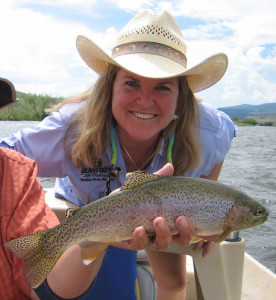 Nancy started fishing as a child on the Brandywine River in Southeastern Pennsylvania, where she grew up. She also fished the Saltwaters of Long Beach Island in New Jersey. Nancy began her love of fly fishing in the late '70s, while living in Vermont and New Hampshire. She later moved to Massachusetts, and continued traveling to fish in Massachusetts, Connecticut, Vermont, Maine, New Hampshire and the Gaspe Penninsula. Nancy was the only woman in a group of weekly fly tiers traveling to different states in the West and East to fly fish. During the early 80's, Nancy grew to know and love fly fishing in Montana. After the loss of her dad, she began to look for job opportunities in Montana, where she could pursue her loves of fly fishing and skiing. In 1999 she became CFO of H.S. Trask, a shoe company based in Bozeman. She rapidly became involved with fly fishing in the area and was soon named president of the local chapter of Trout Unlimited and Treasurer of the Whirling Disease Foundation. Nancy continues to help with these organizations when time allows.
During her time in Bozeman, she met Dan and they began fishing together; a partnership that quickly blossomed. They also recognized they approached fly fishing in the same way and always "fished hard." The couple wed in a very special ceremony on the Madison River, as their vows were carried out on the banks of the Beartooth property at what is now known as Wedding Rock.
Nancy's business acumen and long business experience has been an enormous benefit for Beartooth Flyfishing. Nancy loves retail; she grew up in retail. Her father owned a chain of retail stores where she began working when she was 12. Nancy loves the interaction with the people who come to the Beartooth Fly Shop, because they are happy, many are on vacation, and they are pursuing the sport they love. She continues working hard on expanding the retail activities of Beartooth Flyfishing, including the online store, all while trying to find more time to get out on the water and fish.
Nancy can be reached by email: nancy@beartoothflyfishing.com.
John "Grandpa" Delekta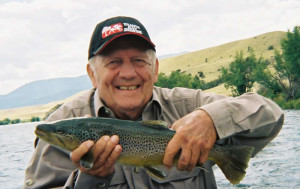 Dan's father, John "Grandpa" Delekta, began fishing when he was around 6. His interest in the outdoors led him to spend almost 40 years in the sporting goods business in upstate New York. During his early adulthood he was a spin fisherman, but later transitioned into fly fishing. Grandpa retired in 1990, the same year that Dan opened the Beartooth Flyfishing Lodge. Also in 1990, Grandpa began spending every Summer at the Lodge, and had since become a full-time Montana resident. Along with fishing the Madison River, he also remained busy doing most of the packaging for the Beartooth Flyfishing product line. Even in his 80's,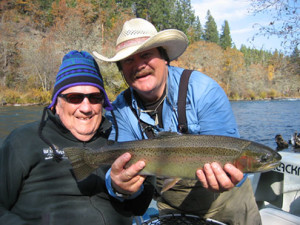 Grandpa worked almost every day, and was an invaluable member of the Beartooth Flyfishing team. He was noted for his merchandising acumen and the well known fly "six-packs" he created and helped maintain for the shop.
Grandpa really loved the time he spent fishing with his son and Nancy. He had also been with Dan and Nancy to the Rogue River in Oregon for steelhead fishing and to Andros Island in the Bahamas for great saltwater fishing. It's remarkable to consider that Grandpa and his son fished together for almost 50 years; a unique accomplishment in this day and age. Grandpa is now part of our loving family and fishing memories and will be missed. When we sit on the porch in his chair where he sat with Tippet by his side, we will be thinking of Grandpa.
Marty "The Montajun" Authement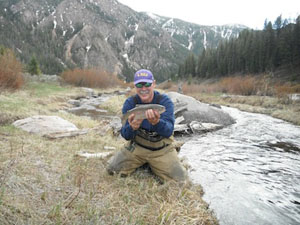 Marty was born and raised in southeast Louisiana and proudly lives the Cajun
lifestyle, fishing and hunting since childhood. He earned a Mass Communications degree, then worked for 10 years at his hometown newspaper, where he started as a reporter and left as editor of the Lifestyles Department.
He was introduced to fly fishing in the early '80s during a trip to Montana, then carried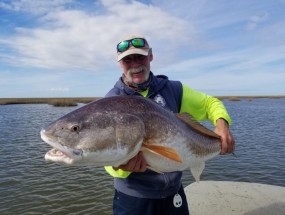 these skills to Louisiana. When the time came to leave the newspaper, he become a full-time guide, and split his time between his two favorite places – pursuing trout in Montana, and chasing world-class redfish in the Saltwater marshes of Louisiana. In addition to contacting Marty at Beartooth Flyfishing, you can also reach him at (985) 688-4495, by email at captmarty@marshmadness.net, or on his website at www.marshmadness.net.
Ryan Ongley
Ryan was born and raised in Bountiful, UT. He fell in love with the outdoors through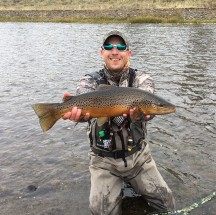 annual trips with his family travelling throughout Yellowstone and Grand Teton National Parks. And the surrounding areas of SW Montana and Wyoming. At 12 years old the family moved to the small mill town of Camas, WA. Throughout junior high and high school Ryan fell into a lifelong love affair with flyfishing. Still taking annual trips to the Madison River and Yellowstone, Ryan began honing his skills on all the waters of SW Montana and the Greater Yellowstone area. While in school in Washington he had the chance to chase Steelhead and Salmon on rivers such as the Washougal, Kalama, East Fork of the Lewis, just to name a few.
At 21 Ryan took a job at Beartooth Flyfishing as Dan's first shop employee through the summer of 1992. During that time he learned so much from his new mentor Dan Delekta. The friendship has grown and grown throughout the years. For 13 years Ryan helped manage a successful woodstove, bbq, and hearth products dealership with his brother Scott. But Montana continued to call and he then moved permanently to Montana in the fall of 2006. Ryan spent 14 years in Bozeman as a member of the management team at the Sportsman's Warehouse store in town. Running the fishing department, then the Camping and Optics departments. Now in the spring of 2021 life has come full circle and Dan and Nancy have asked him to return to help them with this amazing business.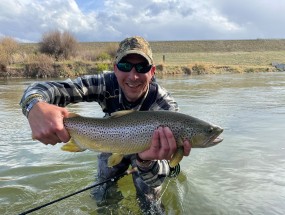 Ryan loves all aspects of flyfishing including: Dries; nymphs; streamers; and soft hackles. With the growing popularity of Trout Spey over the last few years Ryan has made that one of his newest addictions. Fishing for Fall runners out of Hebgen on the Madison in YNP in the fall is one of his most favorite passions. It's an experience that every angler should have a chance to do at least once in their lifetime. When not working at the shop you'll find Ryan and his Black Lab Addie wading or floating the Madison, Big Hole, Beaverhead, Ruby, Gallatin, or Yellowstone Rivers.
Ryan sincerely looks forward to meeting all the regular customers and new ones at Beartooth Flyfishing. His commitment to everyone is to provide the best customer service possible and create new friendships and adventures that will last a lifetime. Tight Lines everyone!
Alexandria "Allie" Delekta
The original Lil' Spanker, Allie was baptized in the rivers of Montana. Born to Dan Delekta, she started her fishing life at 3 months old with her car seat bungee corded to the front of her guide father's wood boat. Growing up at Beartooth Flyfishing, Allie fished the rivers of Southwest Montana extensively with her father, family and extended flyfishing family. She started the Dan's School of Finer Flyfishing at a young age and as she grew her knowledge and ability of flyfishing grew with her. As much as she loved to fish, puttering around on the bank, picking special rocks, and studying the unique ecology of a river system was and is a continued passion for Allie.  As soon as she turned 18, Allie got her guide license and started guiding for Beartooth Flyfishing. She was able to fully fine tune her guiding abilities taking her "Grandpa" and a dear friend Gene Novikoff every week, they gifted her patience and wisdom of old fishing souls. Guiding in the Summer while she attended Montana State University for 2 years, Allie had epic adventures and memorable moments with clients that she treasures to this day. Growing up at Beartooth Flyfishing she heard stories from clients, guides, and family friends about adventures from around the globe, and at 21 she had to go make her own. From fishing for Halibut and stalking Sitka Brown Bears in Alaska, cruising the Caribbean hunting Bones and especially Barracuda on Andros, barreling in Marlin and Sailfish in Panama, scoring Steelhead days on the Rogue, and thoroughly tromping the Lakes, Rivers and Mountains of Montana, Idaho, Wyoming, Washington, Oregon, Arizona and Colorado.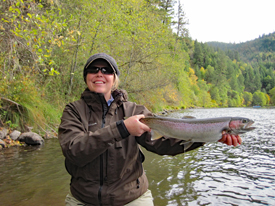 This girl has a fiery and active spirit for adventure!  Allie paid for her traveling working various places including Logging in Montana, Environmental Cleanup Engineering in North Dakota, Heavy Equipment operation in Colorado and North Dakota, Forest Service Dispatch in Oregon, Gym Floor Specialist (painting gym floors across the West), Gas Station Attendant in various locations and far too many more to list. But the best is yet to come as she is now back to her roots with the love of her life in tow, Dan "DJ" Dedman, working at Beartooth Flyfishing together! Allie is thrilled to return to her fishing tribe and bring her talents and experience back to her home to help the people and place that she loves so very much. If she is not in the shop, you may see her down at the river; rocking a sunburn, running down the river screaming "Yee-Haw" with a hooked-up fish, wild and crazy as ever, as time doesn't change everything.
Dan "DJ" Dedman Jr.

Dan Jr. (DJ) was born in Bozeman, MT, grew up as an Ennis kid and graduated from Ennis High School in 2000.  Sports were a big part of his youth and teenage years as he played Basketball, Football (Let's Go Buffalo) and Golf throughout his school years.  Some of his fondest memories from his youth are lake fishing, camping and hunting with his Father, Mother, Sister and family in the Madison and Ruby Valleys.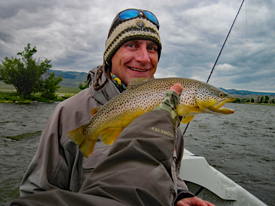 DJ is thrilled with the opportunity to be working at Beartooth Flyfishing and loves to be out on the water with his catch of a lifetime, soul mate and best friend Allie and her family.  He is new to the flyfishing world but has learned a tremendous amount of knowledge from his time working at Beartooth Flyfishing throughout the 2022 season and is excited for the future.  He does have an extensive work history in the retail setting as he started working for his family-owned automotive business as a youth and primarily worked as an automotive parts counterman and salesman.  His lifepath changed with the untimely passing of his father and led him down a different path which included working as a line cook, working for several years as the public works maintenance assistant director for the Town of Ennis and more work in the automotive industry.
DJ has been welcomed with open arms by everyone at Beartooth Flyfishing and feels blessed to be a part of the family and looks forward to learning from the best.  He looks forward to sharing many more flyfishing experiences, adventures, and memories with all of you while helping you at the shop!  Whether it be selling you the hot flies, helping you choose a new custom made Beartooth Fly Rod or helping you gear up for your' next adventure on the water, he looks forward to seeing and assisting all of you fishing fiends for the years to come.  God Bless and may the fish gods bless all of us!
Ryan "RT" Thomas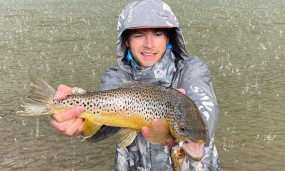 "RT" was born in West Palm Beach, Florida and has fished almost his entire life from a young age. His true love for fly fishing began on the Western Long Island Sound in Connecticut where he graduated from Staples High School in Westport. After fly fishing in the salt for most of his teenage years chasing Striped Bass, Bluefish and False Albacore Tuna, RT began searching beyond the salt for Ttrout in Connecticut on the famously technical Farmington River and on New York's small streams. He is currently studying Fisheries Science at the University of Rhode Island during the Winter. He has joined us at Beartooth Flyfishing for the Summer months. A "Fly Fishaholic" according to shop owner Dan Delekta, RT loves the new challenge of targeting large Trout on the fly rod and can be found daily before or after work fishing on the Upper Madison River. He is excited to continue his passion for fly fishing at Beartooth Flyfishing and can't wait to make memories with the crew, friends, and family here. He looks forward to meeting and helping customers in the shop when he's not out on the river! Tight Lines!