Beartooth Flyfishing is excited to announce our 2017 Delektable Fly Catalog.
It is available for your viewing in .PDF format. You can also view up close images of each pattern in the gallery below. Click the image below to open the catalog.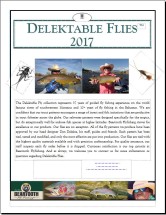 View our Delektable Flies Gallery.
Dan Delekta of Beartooth Flyfishing in Montana ties his Delektable CDC Elk Hair Caddis.
All of these fly tying patterns can be found at The Weekly Fly's website.