Here are the current Upper Madison River conditions.
The river flows have been hovering steadily around 900 CFS for quite a while now with some very slight increases here and there with the little amount of rainfall that we've had. There are a few bony sections at these flows but otherwise this flow provides perfect habitat for our trout.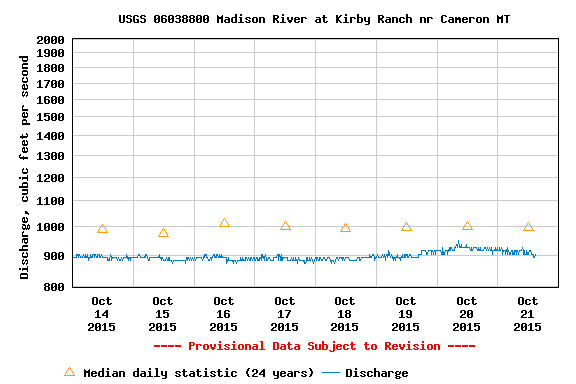 If you look at last week's water temperature readings you can see there was a consistent 10-degree temperature swing occurring due to the sharp decrease in overnight air temperature. That trend stabilized when the low pressure from Sunday-Tuesday moved over the region, however we could see it come back if it stays clear over the next couple days. This can make for slow fishing early in the morning so I would say that there is no rush to get out there, which is nice when we have afternoon temperatures in the high 60s! Afternoon fishing into the evening should be a good bet after the water temperatures exceed 50 degrees.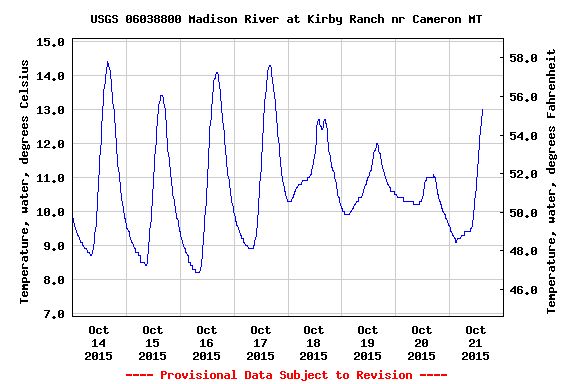 Currently we've got some snow in the higher elevations from the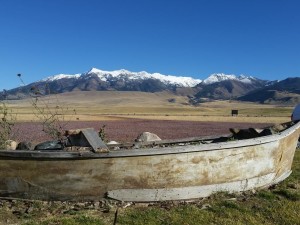 recent storm activity. This morning was socked in with fog and we had our first significant frost as temperatures begin to dip below freezing in the early hours of morning. The fog cleared quickly and it looks like we are in for some nice weather for the next several days. You can expect crisp, clear weather with occasional periods of partial cloud cover and slight possibilities for rain. For the most part, we are expecting some unseasonable mild conditions midday.
As for the fishing, overcast conditions have led to some spectacular streamer action. If you do get some cloud cover, try ripping a big dark colored streamer. In my opinion WHITE IS ALWAYS RIGHT, but during the clear afternoons/evenings it is certainly a good choice. We also had some good reports on black and/or olive sculpin patterns fished under an indicator. Try pairing those up with a #8-10 black Pat's Rubber Legs, a worm or an egg. Significant BWO and midge hatches are also triggering an excellent bite at times using #20-22 nymph and emerger patterns. This action could subside a bit with the clear weather we have now, but certainly give it a go. We also have had a few guides come in to report a steady dry fly bite using Dan's Delektable Chubbyness in sizes #12-16. Try trailing a BWO, midge or calibaetis emerger behind that as well as various #14-18 pheasant tails or lightning bugs. This could be a good bet on the sunny afternoons.
Fish are definitely moving into their spawn with many redds reported between the lakes and leading into the park. Remember to tread lightly as you wade the river this time of the year. Those redds are crucial to our river's future.
Lastly, this time of the year is perfect for exploring new waters with less people. It's been flat out gorgeous throughout the state so get out there!
-Parker Redmond