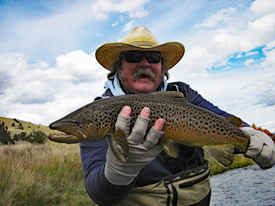 We may be experiencing the last days of Summer surface action over the last week and what a fantastic week it has been. Trout are starting to change into their beautiful Fall colors to match the changing leaves and with the Autumnal equinox we are seeing Streamer fishing coming on in a big way!!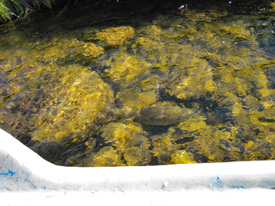 Streamflows are staying consistent and perfect at 1,150cfs@Kirby and 1,310cfs@Cameron. Trout have begun to move into the shallow riffle water and Whitefish have begun spawning. Conditions are perfect right now to catch the trout of a lifetime, the behemoth Trout are making their presence known and are on the hunt, hopefully, for the fly at the end of your line!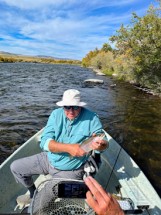 This past week Dries were consistently good as soon as it warmed up and through the afternoon if you could throw them in mixed windy days! Nymphing and Streamers have been consistent, smaller Nymph combos and Streamer/Nymph combos have been productive; Trout are starting to pod up and if you catch one fish in a hole you most likely will find many more.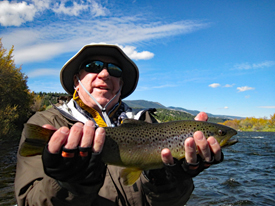 Dries: Delektable Lil' Chubby Royal, UV Olive or UV Tan #14-#18; Delektable Chubbyness Rootbeer, Olive Brown, Royal or UV Goldrush #14-#16; Parachute Adams Sparkle Purple #16-#18; Royal Wulff Cripple #16-#18; Delektable CDC Elk Hair Caddis Purple or Tan #16-#18; Delektable Halo Dark Olive, Royal, Tan or Peacock #16-#18; Trico Thorax Dun #20; Etha Wing Dun Trico #20-#22; Half Drowned Moth, Hopper, Caddis #14-#16; Thunder Thighs Hopper Tan or Yellow #14; Delektable Slammer Black or Red #12-#14.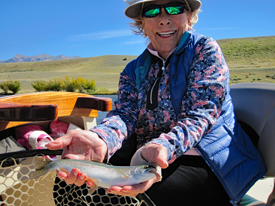 Nymphs: Delektable Curved Hook Ranch BWO #16-#18; JuJu Flashback Baetis #18-#20; RS2 Olive #16-#20; Geppert Skinny Dip Brown, Pearl #16-#18; Delektable Tungsten BH Big Spanker Warrior #14-#18; Black BH PMD Nymph #16; Geppert Green or Red Machine #18; Delektable Guide Stone Olive/Brown, Black or Black/Brown #10; Delektable Lil' Spanker Red, PT, Silver, Gold or Blue #16-#18; Delektable Hammerhead GTBH Prince or Hare's Ear #16-#18; Tungsten BH Jiggy Frenchie #16-#18; Formerly Known as Prince #14-#18; Delektable JH Tungsten Spanker Holo Red, PT or Holo Black #16-#18; Wire Worm Red or Orange/Red #4-#8; Flossy Worm Red #12-#14; Delektable Prince Brandon #16-#18; Geppert's Mega Emerger #16-#18; BH Lightning Bug Gold, Pearl or Silver #14-#16; Geppert's Skinny Dip Black #14-#16; Psycho Prince Purple #16-#18; BH Rainbow Warrior Red #16-#18.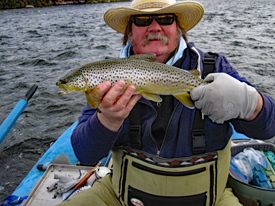 Streamers: Delektable SS Jointed Screamer Olive/White, Black, White, Black/Olive; Delektable Double Screamer Olive Black, Olive Black in Gold, Black, Olive, White; Delektable Single Screamer Black, Olive/White, Olive/Black, White or Olive #6; McCune's Sculpin Tan #4-#6; Dali Llama Olive/White or Black/Olive #6; Coffey's Sparkle Minnow Sculpin or JJ #6; Trevor's Sculpin Olive or Black #6; Flash Fry Olive/Natural #6; Mini Loop Sculpin Olive or Natural #6; Mini Sculpin Black #10; Galloup's Sex Dungeon Olive/Black or Tan #6; JR's Conehead Streamer Olive #6; Fish Wacker Mini White #6; Sculpzilla White, Olive or Black #4-#8.