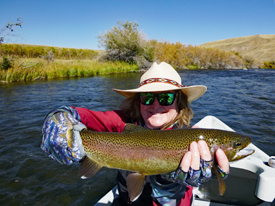 Cool mornings, warm days, calm waters, and fabulous fishing. Can you ask for anything more in beautiful Southwest Montana! We have had just the best Summer! And if you were lucky enough to be here the past two weeks, anglers have been blessed with beautiful weather and robust fishing experiences!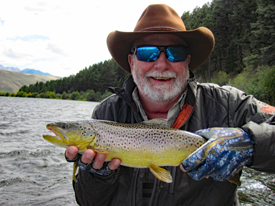 Fishing has been consistent, for most days, and by the later part of September we have started to see Trout start to move into the shallow riffles and pod up. Dries have been quite productive throughout the day; Caddis, Hoppers, Ants, Tricos and some BWOs are still holding strong. Nymphing with two smaller nymphs or size #10 or #8 Stones or a Streamer and Nymph trailer combo have brought some big smiles to many fly slingers!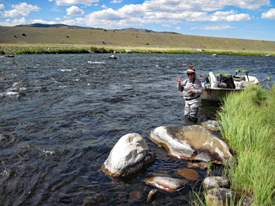 We have changed our hours and are open from 8 am to 6 pm every day! Here at Beartooth Flyfishing we are fully stocked for all your fishing needs and here to help you with all your upcoming adventures!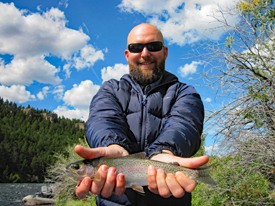 Dries: Delektable Lil' Chubby UV Tan, Royal, UV Cinnamon or UV Pink #14-#18; Delektable Halo Royal, Peacock or Mo River #16-#18; Delektable Chubbyness Rootbeer, Royal, UV Cinnamon, UV Purple or Olive Brown #12-#16; Micro Water Walker Peanut or Pink #14-#16; Bloom's Stealth Ant Purple #14-#16; Yaeger's 409 Red #14-#16; More or Less Hopper Yellow or Peach #10-#12; White Cloud Hopper Tan or Peach #12-#14; Thunder Thighs Hopper Pink or Tan #12-#14; Delektable Flying Ant Red, Purple or Black #14-#18; Delektable Lil' Secret UV Pink, Royal or Goldrush #14-#18; and Parachute Adams Sparkle Purple #16-#18.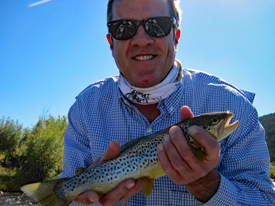 Nymphs: RS2 Olive or Grey #18-#20; BH Montana Bullet Black/Red #18; Delektable Guide Stone Olive/Brown, Black or Black/Brown #10; Delektable Lil' Spanker Red, PT, Silver, Gold or Blue #16-#18; Delektable Hammerhead GTBH PT, Prince, Hare's Ear or UV Purple #16-#18; Tungsten BH Jiggy Frenchie #16-#18; Formerly Known as Prince #14-#18; Delektable JH Tungsten Spanker Holo Red, PT or Holo Black #16-#18; Wire Worm Red or Orange/Red #4-#8; Delektable Prince Brandon #16-#18; Geppert's Mega Emerger #16-#18; Pat's Rubberleg Black or Olive/Brown #8-#10; BH Lightning Bug Gold, Pearl or Silver #14-#16; Geppert's Skinny Dip Black #14-#16; BH Guide's Choice Hare's Ear #14-#18; and Psycho Prince Purple #16-#18.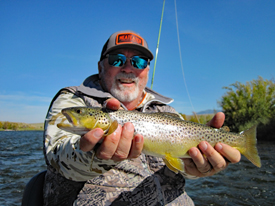 Streamers: Delektable SS Jointed Screamer Olive/White, Black, White; Delektable Double Screamer Olive Black, Olive/Black in Gold, Black, Olive, White; Delektable Single Screamer Black, Olive/White, Olive/Black, White or Olive #6; McCune's Sculpin Olive or Tan #4-#6; Zonkers Dark Olive, Tan, or Natural #8; Trevor's Sculpin Olive, Black, or Natural #4; Dali Llama Olive/White or Black/Olive #6; Coffey's Sparkle Minnow Sculpin #6; Conehead Zuddler Olive #6- #8; Flash Fry Olive/Natural #6; Mini Loop Sculpin Olive or Natural #6; Mini Sculpin Black #10; Bunny Buster #8.