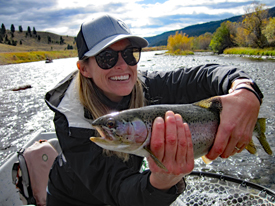 Black Cats, Pumpkins, and the Fall Harvest is coming… but it's not quite here just yet! Last week we saw what probably was the final breath of summer. While we have all been geared up to fish Streamers, the Dries have been quite effective during the day and into the evening. With mixed results with Streamers, Nymphing has been the most consistent way to land some Trout out there.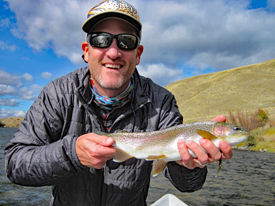 The Streamflows dropped this week to accommodate the Brown Trout spawn and to establish the Winter flows. Once established we should see flows stay consistent throughout the rest of the Fall/Winter season. Flows started this week at 1,140cfs@Kirby and 1,230cfs@Cameron at the beginning of the week and dropping mid-week to 886@Kirby and 1,060cfs@Cameron.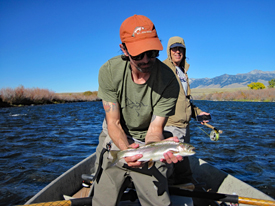 This week we saw bright sunny days with warmer temperatures. With the drop in Streamflows, fishing could be challenging depending on what section you were fishing and what time of the day. The early morning and late evening Streamer bite has been on with more aggressive chasers and eats. During the day BWOs and Midges have been producing some good fish if you can see your Fly and keep it up! Fishing these smaller flies with a Chubby or Ant pattern in front and frequently rotating your smaller Fly can help. Smaller nymphs in tandem and small Stonefly patterns #8-#10 have been productive in the shallower riffles and deeper holes with jig patterns with a split shot can get you that score that you're after.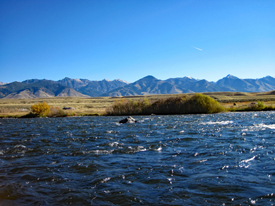 This next week with the weather turning, we should see the Fall Streamer fishing start to really pick up. Remember Brown Trout are beginning to spawn; play your fish quickly, if you must snap a picture do so quickly and take off your gloves before handling. We all must take care of our precious resource; little acts of preparedness and consciousness go a long way in keeping our beautiful river and Trout protected for generations to come.
Dries: Delektable Flying Ant Cinnamon & Black #18; BWO Para-Sipper #18-#22; Q's Loopy Cripple Stacker BWO #18; Hi Vis BWO Spinner #20; Etha-Wing Dun BWO #20-#22; Delektable BWO Teaser or Adams Teaser #18-#20; Delektable BWO Munchkin #18-#20; Parachute Adams Black Post #18-#22; Parachute Adams Sparkle Purple #16-#18; Delektable Lil' Chubby Cinnamon, UV Rainbow or UV Goldrush #16-#18.
Streamers: Delektable SS Jointed Screamer Olive/White, Black, White, Black/Olive; Delektable Double Screamer Olive/Black, Olive/Black in Gold, Black, Olive, White; Delektable Single Screamer Black, Olive/White, Olive/Black, White or Olive #6; Zonkers Dark Olive, Tan, or Natural #8; Trevor's Sculpin Olive, Black, or Natural #4; Dali Llama Olive/White #6; Coffey's Sparkle Minnow Sculpin #6; Flash Fry Olive/Natural #6; Mini Loop Sculpin Olive or Natural #6; Mini Sculpin Black #10; Galloup's Sex Dungeon Olive, Black/Olive Barred or Tan #6; JR's Conehead Streamer Olive #6; Fish Wacker Mini White or Olive #6; Sculpzilla White, Olive or Black #4-#8.
Nymphs: Delektable JH Tungsten Spanker PT, Holo Orange, Black, or Silver #16-#18; Pat's Rubberlegs Black or Black/Brown #8-#10; Delektable Kaboom Stone, Sparkle Kaboom Stone or FB Sparkle Kaboom Stone #8-#10; Jiggy BH Black Zebra Midge #18-#20; Delektable Tungsten BH Big Spanker Warrior #16-#18; Wire Worm Red or Orange/Red #6-#8; JuJu Flashback Baetis #18; Geppert Master Emerger #16-#18; Pheasant Tail Nymph Classic #16-#18; Skinny Nelson #18; Delektable Twinkle Black, Red, or Purple #18-#22; Delektable Ranch BWO #16-#18.