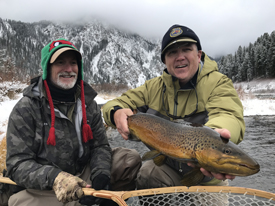 Flows are steady with the last couple of weeks' reports as the temperature will begin to drop here in the Madison Valley. Daytime highs are predicted to be all over the board this week between about 30 and 50 degrees.
Let's hope that the changing weather will turn the streamer bite on! We've seen some good fish caught lately on McCune's Sculpins, Sundell's Bad Boys, Mini Loops and Delektable Screamers but we're still hoping to see some more consistency with the streamer bite.
Nymphs have been picking up most of the fish, of course. Hare's Ears, Prince Nymphs, Rubberlegs, eggs and Delektable Big Spankers have all been good choices as of recent and they're working best in the deeper holes so you may want to have some split shot with you as well.
Dry fly fishing is the same story as the past couple weeks with baetis being the main target. I still recommend just a classic parachute adams to imitate them but don't be surprised to see more midge action in the coming days as it cools off.
Keep checking in for more tips and reports to come!