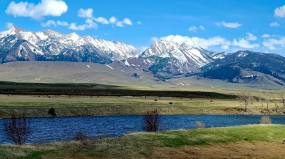 Ennis Town Access is Open!
Green River Color has returned to the Madison with the cooler temperatures this week, and what a pleasurable treat before the Big Mud! Stream flows started this week at 1,350cfs @ Kirby and 1,660cfs @ Cameron, mid-week dropping to 1,150cfs @ Kirby and 1,490cfs @ Cameron and a steady increase to 1,300cfs @ Kirby and 2,160cfs @ Cameron by the end of the week. We should see a continuation of warmer weather this week and run off has started, however, the river is still fishable, and Trout eat throughout the runoff. For the next week our favorite spot is above the West Fork to Quake Lake; big Stone Flies and Streamers can be deadly this time of the year!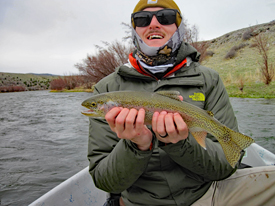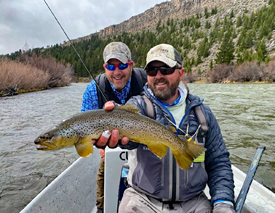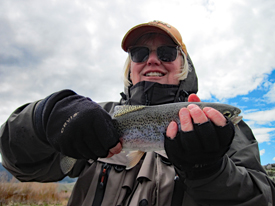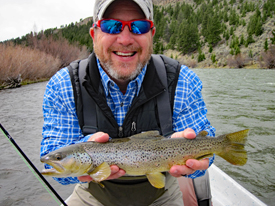 This week's fishing was steady and consistent, the cooler weather brought the green river color that we all love in Spring. Double Stone Flies, Stone Flies and Streamers with a trailing Delektable Lil' Spanker PT brought the most action, Dry Flies could be productive if fished throughout the day, but the Trout still seem wary about making themselves seen with hungry birds of prey hovering above.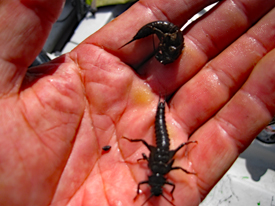 Mother's Day Caddis made a grand appearance on the Lower Madison this week and there have been sightings on the lower portion of the Upper River this week. It would be worth the effort to fish some Caddis this upcoming week, the Nymphs have been tested and produced Trout this weekend.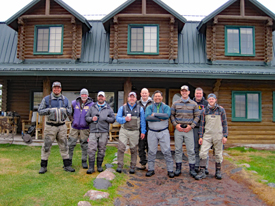 As always the pictures tell the best story! Here at Beartooth Flyfishing we are so happy to be seeing all our old friends coming back for the year and can't wait to be back into the Full Summer Swing, we've missed it so!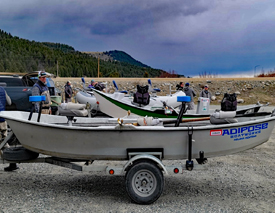 Streamers: Delektable SS/Double/ or Single Screamers Olive/White, Black/Olive, White or Yellow #6; Zonkers Olive or Natural Copper Body, Black or White #6 & #8; McCune's Sculpin Olive #4-#8; Delektable Christmas Tree Original #6; Jr's Conehead Streamer Olive #6; Yo Dali Llama Olive/White #6; Mini Loop Sculpin Olive or Natural #6; Sparkle Shelia Sculpin #4; Trevor's Sculpin Olive or Natural #4.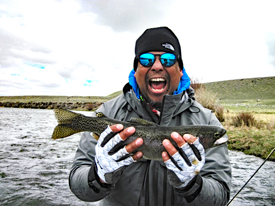 Nymphs: Delektable Hammerhead GTBH Olive #14-#20; Delektable FB Hurless Stone Gray or Olive size #8-#10; Delektable FB Olive Mega Prince #8-#10; Delektable Big Spanker Warrior size #16- #18; Delektable Worm Red #12-#14, Pat's RubberLegs Black, Black/Brown or Olive/Brown #6-#12; Delektable Guide Stone Brown/Black or Black #6-12; BH Tung Teaser Black #20; Geppert Crystal Dip Olive, Red #16-#18; BH Shop Vac Brown or Olive #16-#18; Wire Worm Red #6-#10; JH CDC Flashback PT #18; BH PT Tungsten Soft Hackle #20; Delektable Mega Prince STD FB #8 & #10; Delektable Twinkle Black or Red #18-#20; BH Montana Bullet Black, Black/Red #18; Delektable Lil' Spanker Pheasant Tail #14-#20; Delektable Lime Juice Caddis Emerger #16; BH Partridge Caddis Olive #16; Delektable TGBH Big Spanker Light Olive #14-#16.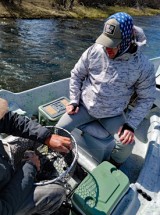 Dries: Purple Haze Parachute #18; Parachute Adams #18-#20; Delektable Chubbyness Royal or Olive Brown #14-#16; Delektable Lil' Chubby Royal or UV Rainbow #16-#18; Delektable Curved Hook Ranch BWO #16; Etha-Wing Dun BWO #20-#22; Q's Loopy Cripple Stacker BWO #18; Gulper Special #18-#20; Adams Split Wing Parachute #16-18; Adam's Midge Cluster #18-#20; Delektable CDC Elk Hair Caddis Holographic Olive #16; Etha Wing Caddis Olive #16.