Spring in Montana is such a tricky beast! Cold, wet and maybe still Winter to hot Summer weather and then back to true Spring, overcast and just perfect. This week we saw Spring in true form with temperatures in mid-70s most of the week and dropping back to the mid-50s by the end of the week. We saw a little preview to runoff with flows jumping from 1,275cfs @ Kirby & 1,500cfs @ Cameron starting the week, 1,480cfs @ Kirby & 2,070cfs @ Cameron mid-week and then a progressive drop to 1,250cfs @ Kirby & 1,630cfs @ Cameron by the end of the week. We should see a continuation of drop in flows and improvement of water clarity next week as cool temperatures are predicted.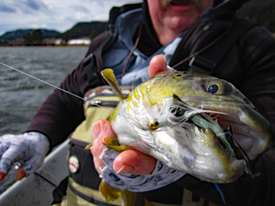 Stone Flies, Midges, Baetis, some March Brown Nymphs and Streamer action has been the most consistent this week. We saw some water discoloration from the feeder streams this week with the warmer weather, but clarity improved later in the week as temps cooled. This had some impact on catching but anglers that were willing to change their tactics with the conditions had some great catching days!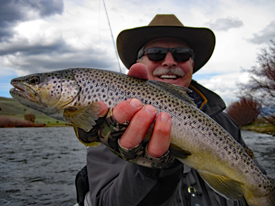 At Beartooth Flyfishing we are gearing up for the season! We are open Every day 8am to 5pm and we got fantastic free coffee, just the best entertainment and pretty good advice. Let us help you with your next fishing adventure!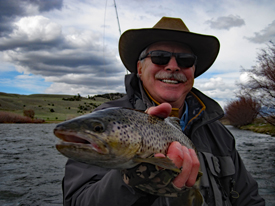 Nymphs: Delektable Braided Stone FB Brown/Tan size #8; Delektable FB Hurless Stone Gray or Olive size #8-#10; Delektable FB Olive Mega Prince #8-#10, Delektable Big Spanker Warrior size #16- #18; Delektable Worm Red #12-#14, Pat's RubberLegs Black, Black/Brown or Olive/Brown #6-#12; Delektable Guide Stone Black/Brown or Black #6-10; BH Tung Teaser Black #20; Geppert Crystal Dip Olive, Red #18; Delektable JH Tungsten Spanker Holo Black #18; Wire Worm Red #6-#10; JH CDC Flashback PT #18; BH PT Tungsten Soft Hackle #20; Delektable Mega Prince STD FB #8 & #10; BH Lightning Bug Silver, Pearl #14-#20; Delektable Twinkle Black or Red #18-#20; BH Montana Bullet Black, Black/Red #18; Delektable Lil' Spanker Pheasant Tail or Silver #14-#20.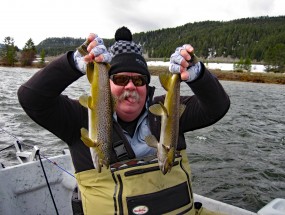 Streamers: Delektable SS Jointed/Double/ or Single Screamer Olive/White, Black/Olive or White #6; Zonkers Olive or Natural Copper Body #6 & #8; McCune's Sculpin Olive #4-#8; Delektable Christmas Tree Original #6; Jr's Conehead Streamer Olive #6; Dali Llama Olive/White #6; Mini Loop Sculpin Olive or Natural #6; Sparkle Shelia Sculpin #4.
Dries: Purple Haze Parachute#14-#18; Parachute Adams #14-#20; Delektable Chubbyness Royal or Olive/Brown #14-#16; Delektable Lil' Chubby Royal or UV Rainbow #16-#18; Gulper Special #18-#20; Adams Split Wing Parachute #16-18; Adam's Midge Cluster #18-#20.