Spring has sprung in this lovely little valley and not a minute too soon! This Winter has been one for the record books and we (including the fish) are ecstatic that it's over! The river is looking fantastic this week, running at 1,230cfs @ Kirby and 1,390cfs @ Cameron. This week has been a mixed bag of Spring weather conditions, the most productive days have been overcast and the streamer bite has been insane!! Lots of quality fish from the Delektable Single Screamer in Olive/White and Black/Olive. Please see below! Fish have been moving a little slower with the cool water temperatures but have been found in pockets in the bank, in the middle and stacked in deeper riffles. We have seen some March Browns around the upper near Lyons, here at the shop, and most definitely near town. Keep your eyes peeled, you may be lucky enough to get some awesome early Dry Fly action!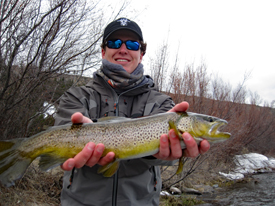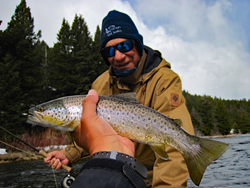 This upcoming week we shall be seeing Summer-like weather, highs in the 70's, in the valley. Come on down to Beartooth Flyfishing and enjoy the sunshine! We are open 7 days a week 8am to 5pm, we would love to help you with your fishing adventure!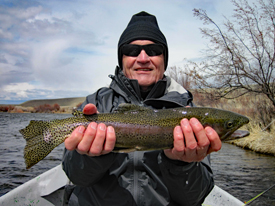 Nymphs: Delektable FB Braided Brownstone size #8; Delektable FB Hurless Stone in Gray or Olive size #8-#10; Delektable FB Olive Mega Prince #8-#10, Delektable Big Spanker Warrior size #16- #18; Delektable Worm Red #12-#14, Pat's RubberLegs Black, Black/Brown, Olive/Brown #6-#12; Delektable Guide Stone Brown, or Black #6-12; BH Tung Teaser Black #20; Geppert Crystal Dip Olive, or Red #18; Delektable JH Tungsten Spanker Holo Black #18; Wire Worm Red #6-#10; JH CDC Flashback PT #18; BH PT Tungsten Soft Hackle #20; Delektable Mega Prince STD FB #8 & #10; BH Lightning Bug Silver or Pearl #14-#20; Delektable Twinkle Black, or Red #18-#20; BH Montana Bullet Black or Black/Red #18; Delektable Lil' Spanker Pheasant Tail, or Silver #14-#20.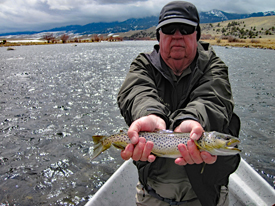 Streamers: Delektable SS Jointed Screamer/Double or Single Screamer Olive/White, Black/Olive, White #6; Zonkers Olive, or Natural Copper Body #6 & #8; McCune's Sculpin Olive #4-#8; Delektable Christmas Tree Original #6; JR's Conehead Streamer Olive #6; Yo Dali Llama Olive/White #6; Mini Loop Sculpin Olive & Natural #6; Sparkle Shelia Sculpin #4.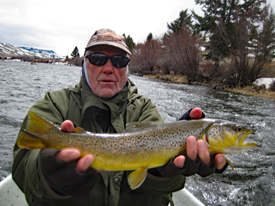 Dries: Purple Haze Parachute #18; Parachute Adams #18-#20; Delektable Chubbyness Royal or Olive Brown #14-#16; Delektable Lil' Chubby Royal, or UV Rainbow #16-#18; Gulper Special #18-#20; Adams Split Wing Parachute #16-18; Adam's Midge Cluster #18-#20.