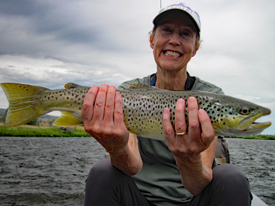 Montana's Wild West Weather moved in this week making the first weekend of August feel like Fall! We started this week with sunny weather in the high 80's and by Thursday we had low 60's and rainy conditions. We are happy to have the rain and cooler weather show up in our little slice of heaven, but fishing became challenging by the end of this week with rainy and cooler conditions.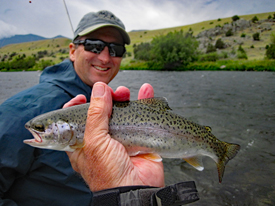 Streamflows this week started at 1,350cfs@Kirby and 1,490cfs@Cameron with a progressive drop throughout the week to 1,120cfs@Kirby and 1,330cfs@Cameron by Sunday. Fishing this week brought us some Hopper eats early in the week. Due to the rainy conditions later in the week we may see a 4-to-5-day break before we start seeing the Hopper action pick up again. Nymphs have been a solid option for consistency throughout the week. The Streamer/Nymph combo on a dead drift has been a go to for big Fish action!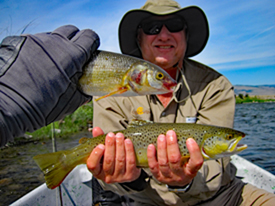 Even with the rain this weekend during our Montana Hope Project Fundraiser Event the weather gods spared us, and we had the best conditions for eating Marty's Gumbo and Dan & Nancy's Chili! And…Vickie and Elle's desserts were awesome! We had a wonderful turnout and had fantastic donations to help the kids! Thank you so much for all that attended and/or donated and if you didn't but still would like to donate you can by mailing a check to us written to the Montana Hope Project (Mail to Beartooth Flyfishing PO Box 309 Cameron, MT 59720), calling us at Beartooth Flyfishing @ 406-682-7525 and we can do a donation with your credit card or mailing a check directly to the Montana Hope Project PO Box 5927 Helena, MT 59604-5927 (Note on the check "In Memory of Grandpa John Delekta". By clicking on this link you can learn more about the Montana Hope Project Montana Hope Project Website. We were honored with a special gift of a beautiful bronze statue from the Montana Hope Project which is displayed in the front of our shop.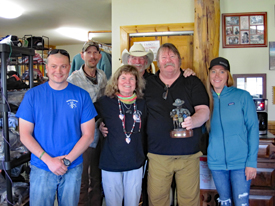 Nymphs: Delektable Hammerhead JH Hare's Ear, Holo Green or PT #14-#18; JH BH Iron Lotus #16-#18; JH Napoleon Light Olive #16-#18; Delektable JH Tungsten Spanker Holo Olive, PT, Holo Chartreuse or Miller Time #16-#18; Pat's Rubberlegs Black/Brown or Olive/Brown #8-#10; Wilcox's Little Green Machine Chartreuse #18; Geppert's BH Madison Purple Death #16; Geppert's Skinny Dip Black or Brown #16-#18; Delektable Guide Stone Black/Brown, Olive/Brown or Black #8-#10; Geppert's Crystal Dip Brown, Olive or Red #16-#18; King Prince #14-#16; BH JH Lightning Bug Pearl, Silver or Olive #16-#18; Wire Worm Red & Orange or Red #6-#8; Delektable BH Prince Brandon #14-#18.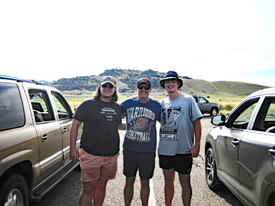 Dries: Delektable Lil' Chubby UV Tan, Royal or UV Cinnamon #16-#18; White Cloud Hopper Olive, Peach or Tan #12-#14; PMD Parachute Rusty Spinner #14-#16; Delektable Halo Royal, Peacock, Purple or Tan #14-#16; More-Or-Less Hopper Purple, Pink, Peach or Yellow #10-#12; Transparent Ant Black/Black or Black/Red #16; Bloom's Stealth Ant Purple #14-#16; Hi-Vis Thunder Thighs Hopper Pink or Yellow #10- #14; Yeager's 409 Olive or Red #12-#16; Delektable Flying Ant Cinnamon or Purple #16-#18; Parachute Adams #12-#16; Delektable Chubbyness Royal, Rootbeer, UV Cinnamon or Purple #12-#16; Dornan's Water Walker September Stone or Peanut #12-#14.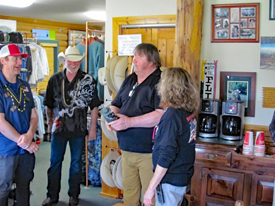 Streamers: Delektable SS Jointed Screamer Olive/White, Black, White, or Yellow; Delektable Double Screamer Olive/Black, Black, Olive, White, Yellow; Delektable Single Screamer Black, Olive/White, Olive/Black, White, Olive, or Spawning #6; McCune's Sculpin Olive or Tan #4-#6; Zonkers Dark Olive, Tan, or Natural #8; Trevor's Sculpin Olive, Black, or Natural #4; Dali Llama Olive/White or Black/Olive #6; Galloup's Silky Kitty Black, Tan, White, or Olive; #6; Coffey's Sparkle Minnow Sculpin #6; Conehead Zuddler Olive #6- #8; Flash Fry Olive/Natural #6; Mini Loop Sculpin Olive or Natural #6; Galloup's Mini Sex Dungeons Olive, Black, or Cream #6.