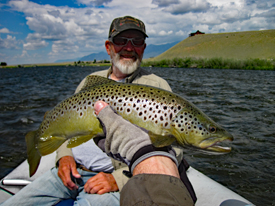 Sweet August in the Madison River Valley; the dog days of summer have set in, schools are about to begin and the River has seen less traffic this week, which if you have been lucky enough to be out there the fishing has been fantastic!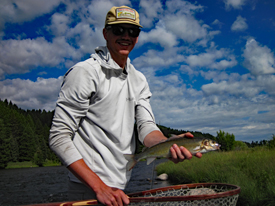 Streamflows this week started at 1,140cfs@Kirby and 1,330cfs@Cameron, flows have stayed consistent @ Kirby finishing the week at 1,130cfs and we have seen a drop throughout the week at Cameron to finish the week at 1,240cfs. Windy Point to Varney Bridge has been the most consistent section this past week. However we have had some windy days which can make McAtee Bridge to Varney Bridge challenging for anglers out of a boat. We are still waiting for Hoppers to really turn on, hopefully this warmer weather next week will finally push them down to the water, however the Ants and Beetles have been turning on. Nocturnals are still strong on top and fishing with a dropper has been quite productive.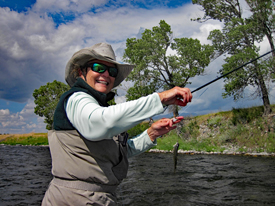 Streamers and Nymphs have been productive, small Nymph combos or Streamer and Nymph dropper fished dead drift tightline or with an indicator. In the evenings the Caddis hatch is has been great and a Caddis with a Rusty Spinner pattern deadly.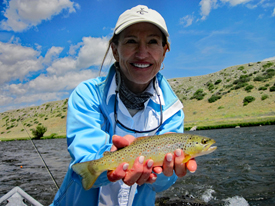 Beartooth Flyfishing, aka The Fly Mart, is open for business Everyday 7am to 6pm, we are here to help you with all your fishing needs! Come on in and let us help you have the best adventure here in Montana and beyond.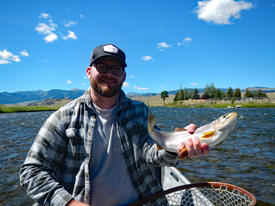 Nymphs: : Delektable Hammerhead JH Hare's Ear, Prince or PT #14-#18; JH BH Iron Lotus #16-#18; JH Napoleon Light Olive #16-#18; Delektable JH Tungsten Spanker Holo Olive, PT, Holo Silver, Holo Red or Miller Time #16-#18; Pat's Rubberlegs Black/Brown or Olive/Brown #8-#10; Blue BH Caddis Emerger Tan #16; BH Madison Purple Death #16; Geppert's Skinny Dip Black or Brown #16-#18; Delektable Guide Stone Black/Brown, Olive/Brown or Black #8-#10; Geppert's Crystal Dip Brown, Olive or Red #16-#18; King Prince #14-#16; Lightning Bug Gold, Silver or Pearl #14-#18; Wire Worm Red/Orange or Red #6-#8; Delektable BH Prince Brandon #14-#18; Bloom's Tung Dart #16-#18.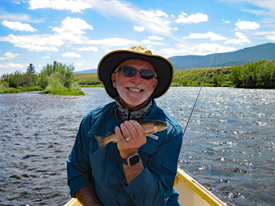 Dries: Delektable Lil' Chubby Pink, Royal, UV Olive or UV Cinnamon #16-#18; White Cloud Hopper Olive, Peach or Tan #12-#14; PMD Parachute Rusty Spinner #14-#16; Delektable Halo Royal, Mo River or Tan #14-#16; Delektable Secret Stone UV Dark Olive or Royal #10-#12; Transparent Ant Black/Black or Black/Red #16; Delektable Flying Ant Minimal Cinnamon or Purple #15-#18; Hi-Vis Thunder Thighs Hopper Pink or Yellow #10-#14; Missing Link Caddis Amber #16; Sparkle Emergent Caddis Grey #16; Parachute Adams #12-#16; Delektable Chubbyness Royal, Rootbeer, UV Cinnamon or Purple #12-#16; Dornan's Water Walker September Stone, Pink or Peanut #12-#14; Cornfed Caddis CDC Tan #16; Carlson's Purple Craze #14-#18; Split-Winged Adams Parachute #16-#18; Delektable Mega2Tone Chubbyness UV Dark Olive or UV Purple #10-#12; Delektable CDC Elk Hair Caddis Tan or Cinnamon #16-#18.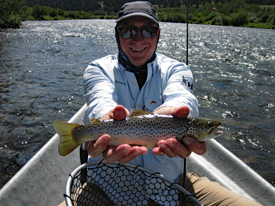 Streamers: Delektable SS Jointed Screamer Olive/White, Black, White, or Yellow; Delektable Double Screamer Olive Black, Olive Black in Gold, Black, Olive, White, Yellow; Delektable Single Screamer Black, Olive/White, Olive/Black, White or Olive #6; McCune's Sculpin Olive or Tan #4-#6; Zonkers Dark Olive, Tan, or Natural #8; Trevor's Sculpin Olive, Black, or Natural #4; Dali Llama Olive/White or Black/Olive #6; Galloup's Silky Kitty Black, Tan, White, or Olive; #6; Coffey's Sparkle Minnow Sculpin #6; Conehead Zuddler Olive #6- #8; Flash Fry Olive/Natural #6; Mini Loop Sculpin Olive or Natural #6; Galloup's Mini Sex Dungeons Olive, Black, or Cream #6; Mini Sculpin Black #10.