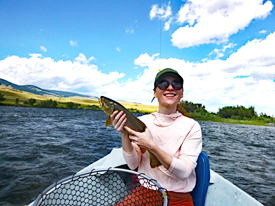 The Heat is on here on the Madison River this week. We saw some of the hottest days of the year this past week with temperatures in the low to mid 90's. How thankful we are that we had such an epic Winter now. The Madison River Basin has a plentiful amount of water to keep our River cool and ecologically safe from the August Heat.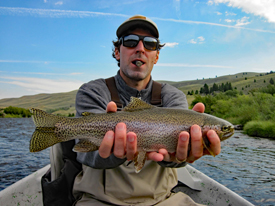 This week's Streamflows started at 1,050cfs@Kirby and 1,240cfs@Cameron, a slight mid-week rise to 1,130cfs@Kirby and 1,330cfs@Cameron and a drop back to 1,100cfs@Kirby and 1,280cfs@Cameron. Fishing can be challenging with flows on the rise, but quite epic when the flows drop.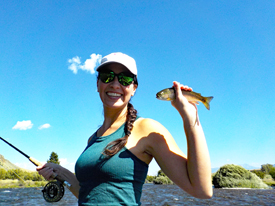 Fishing this week was primarily the most productive with Small Nymphs or a Hopper/Stonefly and Small Dropper set up. The Nocturnal game is still holding strong, and we have started to see flying swarms of Ants and Tricos come off plentifully throughout the River. Hoppers have still yet to make their grand appearance, but Fish are starting to come up to the patterns regardless. Flesh, Pink, Tan, and Royal have been the color of choice for the top water Fly. We are reaching that time of the year when smaller Nymphs, #16-#20, are the most productive. Streamers are working well earlier in the morning and as an attractor for a small Nymph trailing it throughout the day.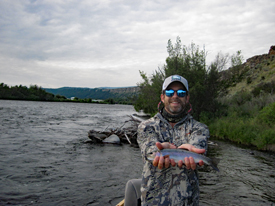 This coming weekend, August 26th-August 27th, the 19th Annual Flyfishing Festival will be happening in Ennis, MT. Our dear Dan Delekta will be doing a fly-tying demonstration from 11:00am to 12:30pm at Peter T's Park next to Madison Valley Bank. If you would like some more information on the festival visit the Ennis Chamber of Commerce Website.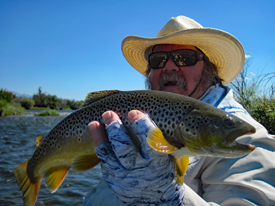 Nymphs: Delektable Hammerhead JH Hare's Ear, Prince or PT #14-#18; JH Napoleon Light Olive #16-#18; Delektable JH Tungsten Spanker Holo Olive, PT, Holo Silver, Holo Red or Miller Time #16-#18; BH Lightning Bug Silver or Pearl #16-#20; Blue BH Caddis Emerger Tan #16; Geppert's Madison Purple Death #16; Geppert's Skinny Dip Black or Brown #16-#18; Geppert's Crystal Dip Brown, Olive or Red #16-#18; Wire Worm Red & Orange or Red #4-#8; Delektable Prince Brandon #14-#18; Bloom's Tung Dart #16-#18; JH BH Iron Lotus #16-#18; Copper John #16-#18; Geppert's Master or Mega Emerger #16-#18; The Fly Formerly Known as Prince #16-#18; BH Micro May Olive #16-#18; or CDC Flashback Pheasant Tail #16-#18.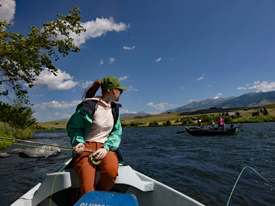 Dries: Delektable Lil' Chubby Pink, Royal, UV Olive or UV Cinnamon #16-#18; White Cloud Hopper Peach or Tan #12-#14; PMD Parachute Rusty Spinner #14-#16; Delektable Halo Royal, Mo' River or Tan #14-#16; Delektable Secret Stone UV Dark Olive or Royal #10-#12; Transparent Ant Black or Black/Red #16; Delektable Flying Ant Minimal Cinnamon or Purple #14-#18; Hi-Vis Thunder Thighs Hopper Pink or Tan #10- #14; Missing Link Caddis Amber #16; Sparkle Emergent Caddis Grey #16; Parachute Adams #12-#16; Delektable Chubbyness Royal, Rootbeer, UV Cinnamon or Purple #12-#16; Dornan's Water Walker September Stone, Pink or Peanut #12-#14; Yeager's 409 Red #14-#16; Carlson's Purple Craze #14-#18; Split-Winged Adams Parachute #16-#18; Delektable Mega2Tone Chubbyness UV Dark Olive, UV GoldenStone or UV Purple #10-#12; Delektable CDC Elk Hair Caddis Tan or Cinnamon #16-#18; Morrish Hopper Tan or Pink #12-#14; or McKnight Thunder Thighs Tan #12.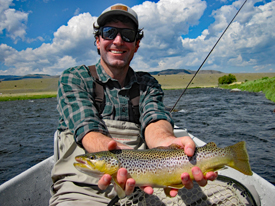 Streamers: Delektable SS Jointed Screamer Olive/White, Black, White, or Yellow; Delektable Double Screamer Olive/Black, Black, Olive, White, or Yellow; Delektable Single Screamer Black, Olive/White, Olive/Black, White or Olive #6; McCune's Sculpin Olive or Tan #4-#6; Zonkers Dark Olive, Tan, or Natural #8; Trevor's Sculpin Olive, Black, or Natural #4; Dali Llama Olive/White or Black/Olive #6; Galloup's Silky Kitty Black, Tan, White, or Olive; #6; Coffey's Sparkle Minnow Sculpin #6; Conehead Zuddler Olive #6- #8; Flash Fry Olive/Natural #6; Mini Loop Sculpin Olive or Natural #6; Galloup's Mini Sex Dungeons Olive, Black, or Cream #6; or Mini Sculpin Black #10.