September 30, 2012
These past couple of days I have gone up above Raynolds Pass bridge and just above Ruby Creek fishing access and both places really produced fish!! Above Raynolds I started out with a Pat's Rubber Legs Olive and Brown size 8 on top and a beadhead Red Serendipity size 18 on the drop. After one little rainbow on the Serendipity, soon after starting, I decided to go thru some droppers. Delektable Lil' Spankers produced the most cookie cutter trout. The best color was blue, and I used #18s and #20s in red, silver, pheasant tail, and purple. After picking up a few here and there on various caddis nymph patterns I then switched to a hopper and Purple Haze split-wing after seeing some takes on top.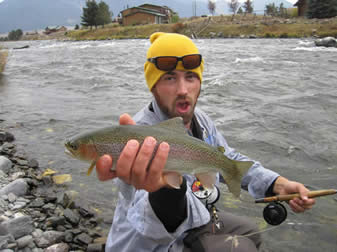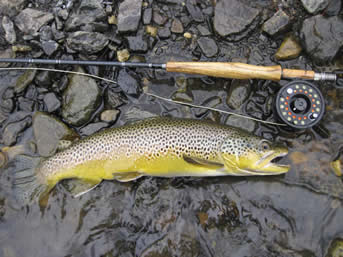 The hopper was a Brown Fat Albert size 10 that I had doctored up with a red and a brown sharpie and the purple haze split-wing was a size 16. The Rod is a Delektable Rocket Launcher with special custom wood, something new Big Dan is doing, love that rod! After a couple takes on the Purple Haze, I caught two nice rainbows on the Hopper. When my bugs started to sink after a bit, this is when I realized I forgot my dry fly floatant. It soon became apparent that I need to fish underneath again. It was beginning to get a little overcast anyway, so I put on a Zonker and Lightening bug. Yep! That was just what the doctor ordered. The size 6 Natural Zonker teased them in to taking the lightening bug on almost every cast. It was a nice piece of action that I needed :). After switching it up a little more, I caught a beautiful brown on a size 16 Nymphicator with a size 4 black Pat's Rubber Legs above it to grab the attention. Bam!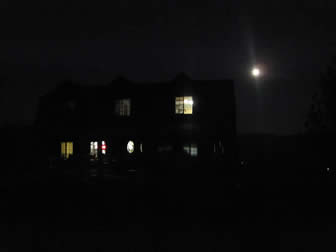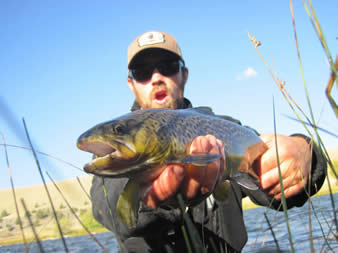 This morning I got a few hours of fishin' in before work and it was great above Ruby Creek. I caught fish on small nymphs and stoneflies both! The size 18 Psyco Prince (green) was the little guy they wanted most. I forgot all my dries, so I kinda screwed myself for that. But, I did however have my floatant this time :). Oh well. It was still a great morning in the great state of Montana for this boy! Happy fishing!!!
Dan