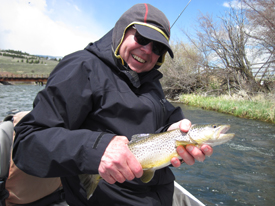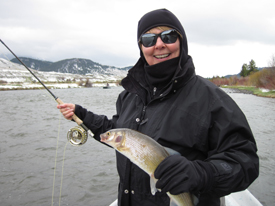 What we hope was the last visit from Old Man Winter has come and gone, at least we hope although having more precipitation is good. With the cooler temps runoff slowed some and clarity improved to a little greener color for the last few days. With warm temps returning we should see runoff resume just in time for the coming weekend.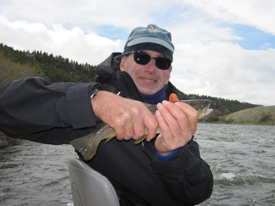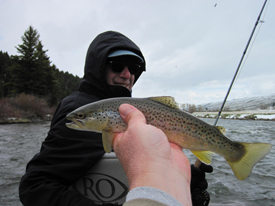 Throughout most of the Upper Madison nymphing will continue to be the most consistent method for catching numbers. Delektable Mega Princes, Delektable Hurless Stones, Delektable Balanced Stones, and Pats Rubberlegs in Black, Brown, and Olive colors. As runoff resumes with less clarity and with the Salmonfly Hatch on the horizon. These patterns can be fished in sizes #4 – #10. Have plenty of bright attractor nymphs along as well. Delektable Lil' and Big Spankers in Silver, Red, Blue, Purple. #14-#18. Psycho Princes #14-#16. Shop Vacs in Olive and Brown continue to fish well #16-#18. Delektable Hammerheads in sizes #14-#18. Lightning Bugs #12-#18. Crystal and $3dips #16.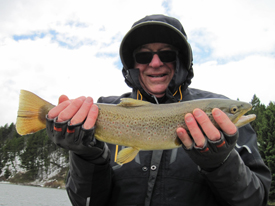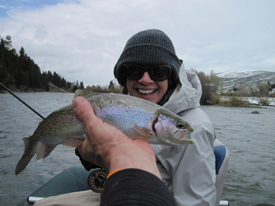 The dry fly action up high around Raynold's and $3 is still active with BWO's and Midges on calm less wind days. Keep an eye on flows and clarity here as the warm weather returns. March Brown's had been active before the cold snap and hopefully we can get a bit more action on them before runoff starts again in earnest.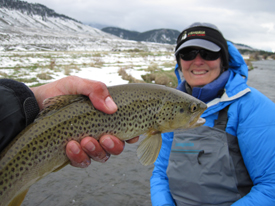 Streamer action is getting more consistent by the week and as runoff returns we should see this trend continue. Black, Olive, and Natural colors have been more consistent for us recently. Delektable Screamers in Black and Olive, and Natural have been solid choices over the last few days. As always with Streamers vary your colors and retrieves until you find what the trout want. But we are definitely seeing more fish begin to chase more and you can get away from the dead drift twitch technique more now.
A quick heads up. We have discontinued RIO Flylines on sale at 40% off. Quite a few Golds and Grands in stock still. Give us a call if you'd like us to get one to you. Please call us anytime or stop in before hitting the river. The Custom Rod Room is full and a lot of other fun product is arriving daily. Be safe and Tight Lines everyone!