Evening was pretty good up this way for the Beartooth boys. We all got a chance to get out and throw some dries recently with all the caddis flying around. I went out by myself on Friday evening and after seeing all the bugs and no rises yet, I thought I would throw 'em anyway. First cast with a little size 16 caddis with tiny rubber legs, proved true with a fat 'lil brown.  I was throwing a big caddis trailed by a smaller caddis. I also caught a few on a size 18 Pheasant Tail 'Lil Spanker. One brown that took the little dropper even had a 4 inch sculpin lodged in its throat. So dries? Yes. Caddis caddis caddis. I pulled 10 or so fish Friday evening with the caddis combo before going home.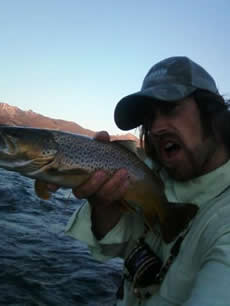 Last night was a little more difficult for some reason. I still got some fish on dries, but not as many. They really weren't hitting the bigger caddis' patterns until later, but the little size 16 with the legs was good again.  Craig and I went down to Ruby and waded for some hours, we both did ok. Craig was drowning nymphs and got a nice rainbow right away. I believe he caught that one on a size 14 Olive Seringold. I then switched to dries that way we covered both. I stayed with a big brown caddis with legs followed by a smaller caddis with legs for the rest if the night and did ok. Nothing crazy, but still a decent amount of action. The water is a lot clearer than last week, so if you are like me and have to wade most of the time, be a little sneakier 🙂 Happy fishing!
June 13 and 14th
Friends: Joe, Robert, Jerry, and Jake had fun with Gunnar catching some nice trout and in a variety of sizes. And yes, there were a few white fish too. The trout were eating mostly wet bugs. The smaller fish were taking the dries.