We are very busy having lots of fun fishing with many wonderful people and are just catching up…sorry for the delay in our reports.
The Indiana Angler group was ready for their first float…and so was the wind. The forecasted rain and lightning never showed up, which was nice, but the winds were HOWLING! We floated Ruby Creek to Varney Bridge and fished nymphs all day. Big fish were hooked right out of the shoots on a green and white streamer but that quickly died around ten. After that, we found a good amount of fish in the trenches next to rocks and about two feet off the bank-nothing in the middle. Girdle bugs and sz.14 prince nymphs were the go to bugs for the morning. Lots of 8-12 inch trout, a few 12-14's, a handful of whitey's all came to the boat but we also a hooked couple big fish that we didn't see. Then we got one of the prettiest 19 in. slab rainbows I've seen all year, which ate a sz.6 black girdle bug next to a rock-just a gorgeous fish.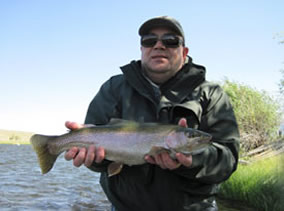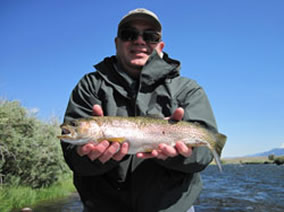 After the slab we continued to find a few smaller trout and then just before lunch we poked a beautiful 17 in. rainbow on the prince just below an irrigation diversion. After lunch we saw a lot of 10-14 inch fish again, a few medium sized fish, including a nice brown pulled out of the middle and a few more whitey's, all on nymphs. When the girdle bug died off, caddis nymphs started to pick up (olive Hares Ear, Lime Juice, Nymphicator's etc…) when tight lined through the middle, until we got to the Cottonwoods.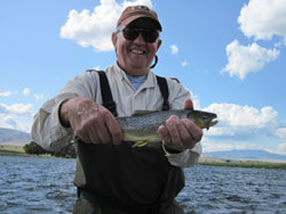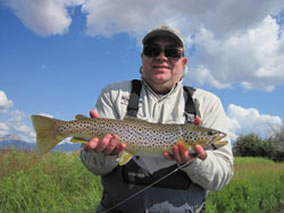 Once in the trees we started fishing stoneflies in the shallows banks and about halfway between the cottonwoods and Varney we found a very large brown that ate our sz. 8 Delektable™ Mega Prince. As soon as the fish ate, it ran so fast that I immediately jumped out of the boat to stop moving. Even at a full stop, the fish ran until we could see our backing knot, almost surfaced itself on the bank 90 ft. upstream, turned sideways and ran for a stick and then came right back at us. I jumped back into the boat, pulled anchor and started chasing the fish. We got it to the boat and I couldn't stop shaking for about 10 minutes…big fish get me all sorts of excited. We taped it at a true 20. If that doesn't sound big to you, look at the picture and try measuring the next fish you assume is 20 inches. All in all it was a great day, even with wind. GO FISHING!!! Charles P.