As of Saturday September 10th, Hoot Owl has been lifted on the Lower Madison River.
Montana FWP are conducting their Fall Shocking of the Upper Madison River on the following dates:
Pine Butte: September 8th, 9th, 12th and September 19th-September 21st
Varney: September 14th-16th and September 22nd, 23rd and 26th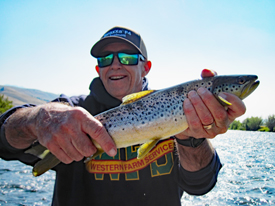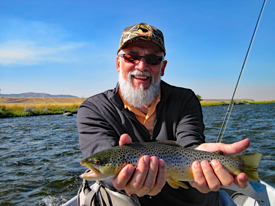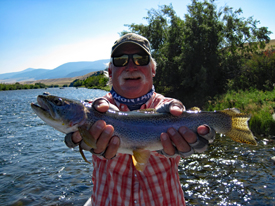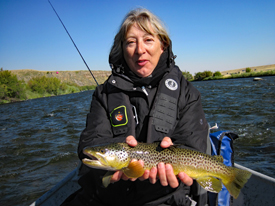 Fall Glory is peeking its beautiful head out this week and what a welcome relief!! We started the week out with temperatures in the low 90's but by Thursday we dipped down into the low 70's to low 60's during the day. We saw large wind gusts in the Valley late this week which brought some rainy weather with it cooling and reviving the parched Prairie. Additionally, this week we saw a change in Streamflow's as the weather cooled, at Kirby we started the week at 1,070cfs with a drop mid-week down to 930cfs; at Cameron we started the week at 1,150cfs with a drop mid-week down to 1,020cfs.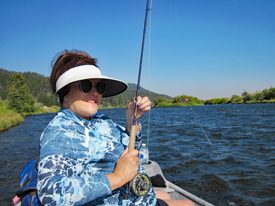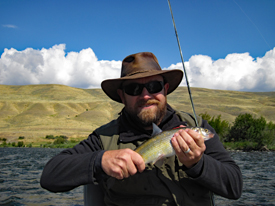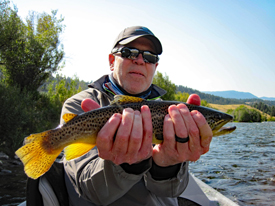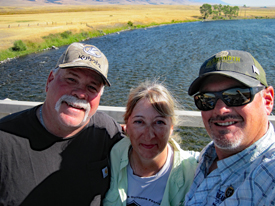 So, what do all these changes mean for the Fishing? The Big Trout are hunting for late Season Flies & Fish, hunting hard! Will your Fly be the one they set their sights on? Let's hope so! The Dry Fly scene is dwindling daily, however, there still has been an on and off Hopper bite, very consistent Ant action, a plethora of Dragonfly hatches and the first few sightings of Fall Baetis. A Hopper and small bead head or Ant dropper, Streamer with quick initial twitch/strip and straight Nymphing with smaller Stonefly and smaller bead heads have all been productive ways to catch fish this week.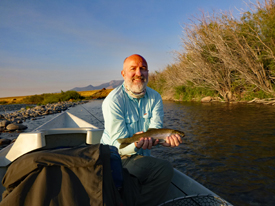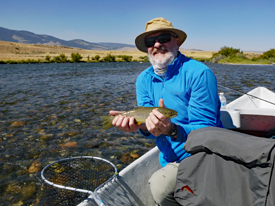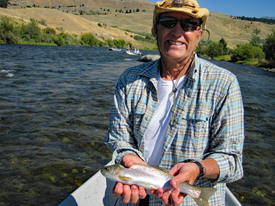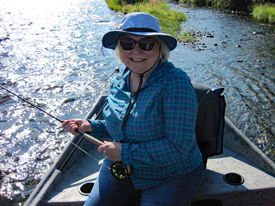 For this coming week we will see some warmer temperatures, mid 80's, returning for a few days and then cooling off to the low 70's to low 60's with a promise of rain. Grab your streamer box, Gore-Tex and thermos and prepare for that 2-footer to emerge from the depths and grab your fly!!!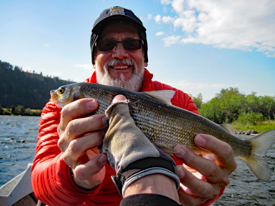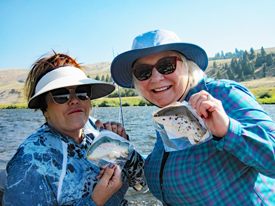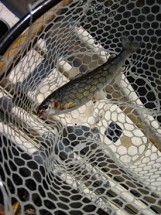 Dries: White Cloud Hopper Tan, Peach, Olive #12-#14; Dornan's Water Walker Pink #12; Transparent Ant Black/Red #16; Delektable Flying Ant Cinnamon, Red, Black, Purple #14-#18; Micro Water Walker Peanut #16; Delektable Royal Munchkin #16-#20; Delektable Lil' Chubby UV Olive, Rainbow, UV Cinnamon, Royal #14-#18; Delektable Chubbyness Rootbeer, Olive Brown, UV Cinnamon, UV Purple #14-#16; and Delektable CDC Elk Hair Caddis Halo Green, Purple #16-#18.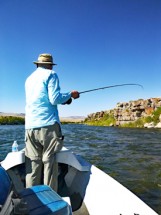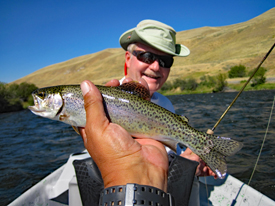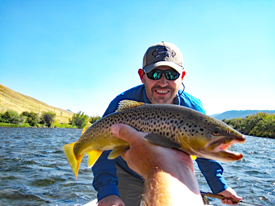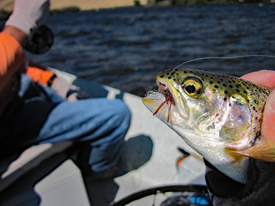 Nymphs: Geppert's Crystal Dip Olive, Red, Black #18; Jig Hook Napoleon Light Olive #16-#18; JH BH Iron Lotus #16-#18; Formerly Known As Prince #16-#18; Delektable Lil' Spanker Silver, Pheasant Tail, Gold, Blue, Red, Olive Green, Purple #16-#18; Pat's Rubberleggs Black/ Brown, Olive/Brown, Black #8-#14; Lightning Bug Gold, Silver, Purple #18-#20; Geppert Mega Emerger #16-#18; Delektable Curved Hook Ranch BWO #18-#20; and RS2 Olive #28-#20.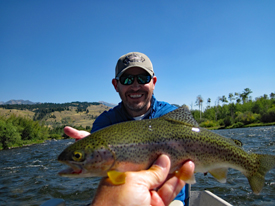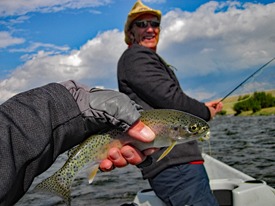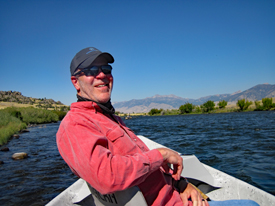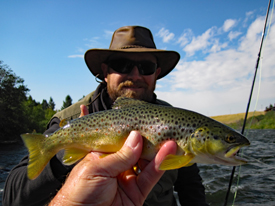 Streamers: Delektable SS Jointed/Single/Double Screamer Olive/White, Black/Purple, White, Yellow, Olive #8; Galloup's Mini Sex Dungeon Black, White, Olive #8; Heavy Metal #6; Bow River Bugger Olive #8; Zonker Olive, Dark Olive, White, Natural/Copper #6-#8; Sculpzilla Olive/White, White #6-#8; Yo' Dali Llama Olive/White, Natural, Black/Olive #6; Trevor's Sculpin Olive, Black, Natural #4; Keller's Nightmare Sculpin Olive #6; Mini Loop Sculpin Olive, Natural #6; Slump Buster Squirrel/Copper, Squirrel/Gold #6; and BH Rickard's Seal Bugger Claret/Black #8-#10.