So the episodes of Shark Week continue……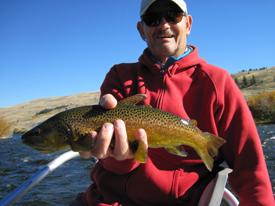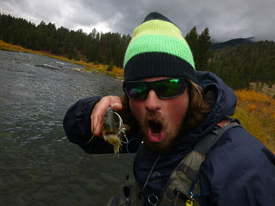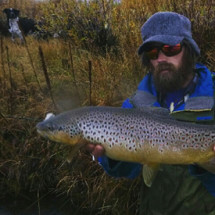 These last weeks we have been waiting for the colder weather to come in and stir things up. Well, we got our wishes and the fish are all kinds of riled up now. Last week was a good start to the fall fishing and now it is in fullll… swiiiing!!!  We have been seeing some good sized fish in the last few days here. The streamer bite has been on and there have been some nice fish coming in and submitting to the net. The BWO and Baetis bite is on because of the colder weather too, so if you don't like throwing streamers or big nymphs, you are still going to be satisfied with decent dry fly fishing! That being said, I would like to tell a quick dry story. Emmett and his father went out to throw nymphs. Big fish were lurking and looking up. Now, dad had his bobber get eaten by a decent sized fish a few times and so he told his son, Emmett. Dad: "what should we throw on?" Emmett: "Well, lets throw a salmon fly on." So, in very late September they throw salmon flies on and…. well you guessed it…blaaam, they were into a few nice fish. Take a peak, its Shark Week!!! ….again.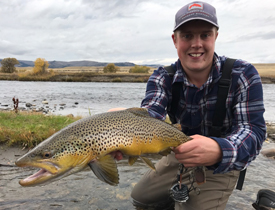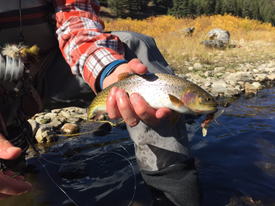 Now, before I get into the streamer talk (which is probly going to seem repetitive)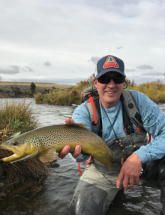 I'll let you in on the guide bugs and whats working for them out there right now. The stones are crawling around and a Black Pat's Rubber Legs in a size 8 will do just fine. There are a couple of different colors in that pattern that are also working very well, like Brown, Tan/Brown, Black/Brown and Olive/Black. The size is an 8 but a size on either side of that will do just fine also. Bend the shank to give it a much buggier look (and give you an up on yer buddies) 🙂 . Also, try a Twenty Incher Stone (it's a peacock stone) in a size 8 or 10. As usual, the Delektable Mega Prince Standard size 10-8 is a good call for any stretch of the river, but especially the top end right now.  The rock pocket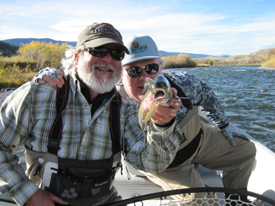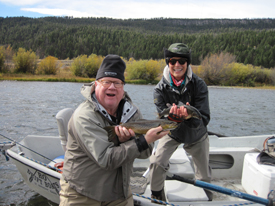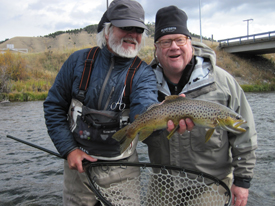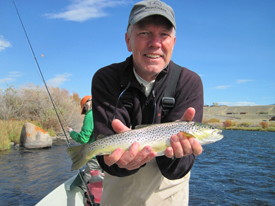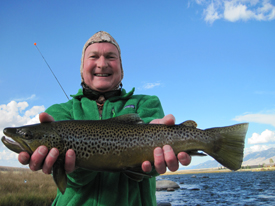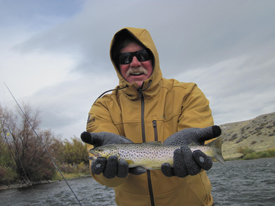 picking is spectacular above the Lyons Bridge Recreational Area all the way up to the Slide at Quake Lake. The Prince nymph in a size 12 has been a "go-to" with the guides here as well as a whole slew of small darker BWO/Calibaetis style nymphs. As for the streamer bite… all the colors are working, all of the silhouettes are slaying and all the rods SHOUUULD…theoretically and historically be…BENT!!! Some of the best colors have been olive and black combos on articulated streamers. Olive and Yellow has been really good too. Black, Black and Blue, Black and Purple, White, Silver, Tan and various colors of the natural spectrum have been doing well. That pretty much covers the rainbow huh? Well, if you are having trouble hooking up on the "straum" (streamer) and you want to quit and throw nymphs again, just take a look at these photos and rethink your decision. If you want to catch a fish on a streamer…you must first throw the streamer…in the water.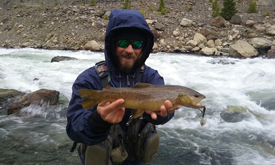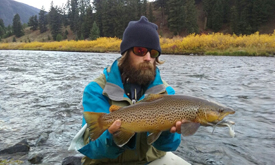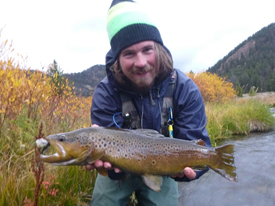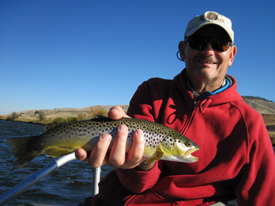 I don't want to give away all the secrets about streamer fishing to the world wide web, but if you would like to know a little more, please come on in and let's have a 'lil heart to heart eh? Please have a wonderful rest of your season and fish your brains out!!!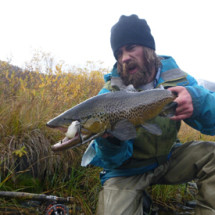 Happy Fishing!!!  _DanG