This day was a rare event, Dan and Nancy took a day off to go fishing and believe it, we hired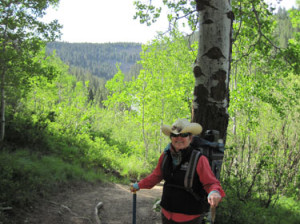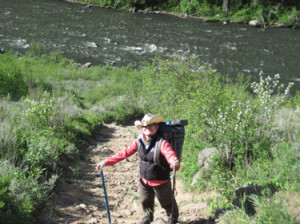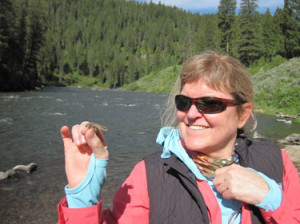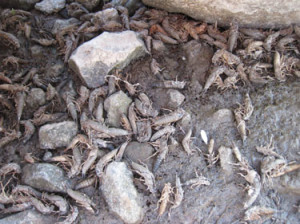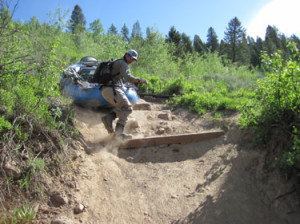 a guide to spoil us. It was a big treat for us and a real fun adventure. We have been wanting to fish below Lower Mesa Falls for years. Dan hadn't done it for maybe twenty years. This is not an easy adventure and you need to be in pretty good shape to do the hike.
The day began with a drive into the park and a trail that is steep and deep. We needed walking poles to prevent from sliding down on our buts because it's steep and gravelly. Phil, our guide, from Trouthunter, had to push the raft down the long steep trail to the launch. All this took at least an hour. Trust us, it's not a short trail! We took a few photos on the way down so you can see the experience with us.
Once we got down to the boat launch area it was beautiful with lots of trees and under the rocks were loads of cases from the spent Salmon Flies. The river was clear. As we put our gear on, Golden Stones were crawling over us. That was a sure sign of one of the bugs we should try.
The canyon you float through is picturesque with lots of birds and wildlife. We had action and caught trout and some white fish on our flies most of the day. Our primary patterns were Dan's Secret Salmon and Dan's Secret Golden Stone. We also used a variety of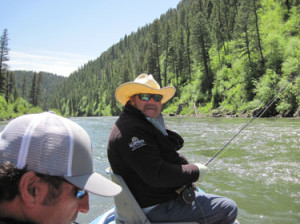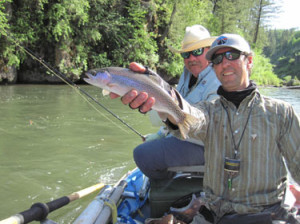 Chubbys with Royal being a good one. The dries floated like a cork so you could put a long trailer on it and these included the Delektable Mega Prince #10, Lil' Spankers in various colors, Princes, and Pheasant Tails. The hatches were going on all day. We saw Salmon Flies dwindling, Golden Stones heavy, Caddis of various sizes, March Browns, May Flies, and PMD's. It was really awesome. We also tried streamers for a bit but rare action on the streamer.
The weather was a bit too nice. We thought it would be overcast and it became sunny a good part of the day. The fish were biting the dries and eating the trailers. We waited to take pictures of bigger fish and alas most of the day our catch was in the small to mid size Trout with a few in the high teens. It was fun and silly with the catching and a great day off.
Thanks Phil!
Nancy and Dan