"Oh, the weather outside is frightful …" But the fishing is AWESOME!
The weather was wet, very wet, on Friday, and very cold, with snowfall following on Saturday morning as I write this report. This meant bundling up for a guides-day-off trip down the Madison River with my buddies, Allen and Bern.
But, oh boy, was the fishing great!
The word for the day … STREAMERS! As is usually the case, the streamers weeded out the little guys, with only big fish biting our offerings … LOTS of big fish … Fishing was consistent throughout the float, punctuated with bent-rod doubles. Anytime there was a short lull, color selections were adjusted, and the bite was back on!
Oh, and the blown-out conditions we keep hearing about; not true! The water has a stain, but it's not muddy, the clarity is good and, oh yeah, the fish are biting … HARD!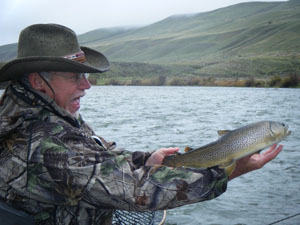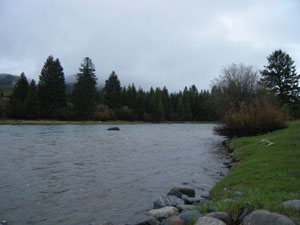 And the fun and great fishing didn't end when we got off the river. As we pulled back into Beartooth with boat in tow, Dan was loading his truck for a late afternoon of wade fishing. Just like us, he absolutely hammered one big fish after another. The only difference was his fly selection, with stonefly nymphs providing his multitude of strikes; specifically, the #6 and #8 Delektable™ Black/Orange Stoner, and the #8 Delektable™ Olive Mega Prince Flashback.
My apologies for the sparing amount of photos. The seasoned veterans weren't that concerned about taking pics, and my hands were so cold, I stopped taking them out of the protection of my gloves. In fact, after fishing a short while in the morning, I volunteered to row the remainder of the float, so I wouldn't have to take the gloves off, and to keep the "internal heater" cranked up. Heck, even the local boys were feeling the effects of the cold, but I was much colder than them. … What can I say? I'm a Southern boy … I did get some photos of an unexpected highlight of our trip. We made a right-hand turn in the river and were greeted by a small herd of elk crossing the river, complete with calves. What a treat! This river, and valley, never ceases to amaze me with the natural beauty that fills it.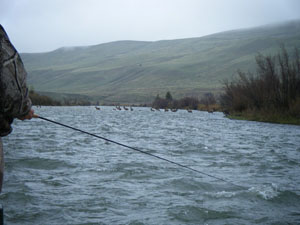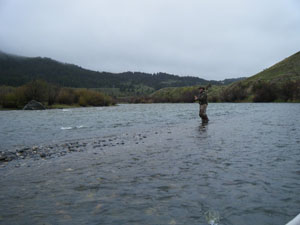 So grab your gear; and don't forget to bring spare warm clothes and rain gear … and go fishing!
Marty