Hey everyone!!! Dan Greene here, reporting that Hienie and the boys are at it again!!! I hope you are all having the times of your lives fishing out there and catching lots and lots of beautiful fish! The weather has been epic for streamer fishing and the big nymphs as it get closer to the big bug season.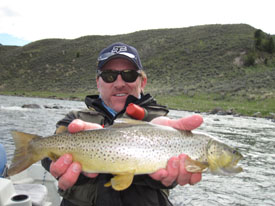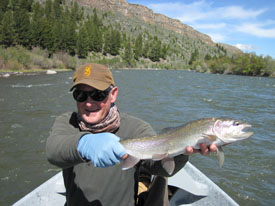 The water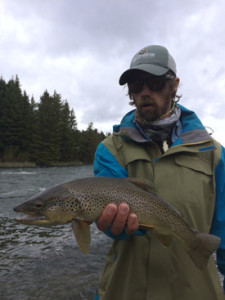 coming out of the damn at Hebgen is about 560cfs today and the river is on the rise as the snowmelt starts to come down. As the river picks up a few more streams and little creeks, it rises a little more the further you go downstream. The river at Kirby Ranch (Old Kirby Place) is at 959cfs, and down our way here in Cameron is around 1620cfs today. The Madison River water levels are in great shape for the summer as the Hebgen Damn will be finished in July and the snowpack has yet to come down. The West Fork is spitting out a little more mud each day and that is a good thing for fishing the big stoneflies and streamers:)
The patterns have been pretty consistent the last couple of weeks with the big stonefly being the top dog, and the Caddis and March Brown not far behind. The Delektable Mega Prince olive and standard size 8 has been the go-to, with the Delektable Hurless Stone gray right below that as a trailer. The double stonefly combo has been the big fish catcher of the spring as it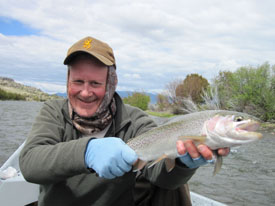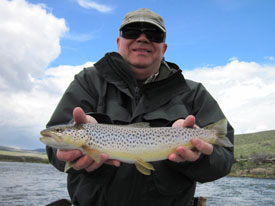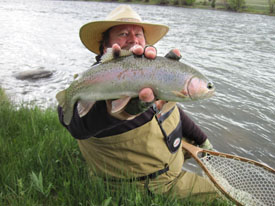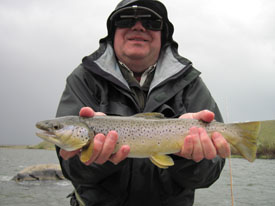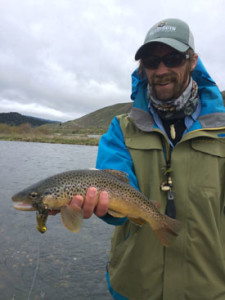 usually is. Other good patterns that have been working are the soft hackle patterns. These patterns often get overlooked and are sometimes even forgotten about. The softhackle, whether its CDC or Partridge feather, hold an air bubble that acts as a swimming emerging bug and is very very effective, even deadly at the right time of the day. Some of the ones we have been swinging are the copper john, the hare's ear and of course the famous pheasant tail. We have many soft hackle patterns in the shop here that are considered "old" patterns, but still work very well and sometimes can be the only ticket at times during the day.
The streamer bite of course is pretty good in the morning and great in the evenings as the fish tend to move towards the edge of the river when the fishing pressure isn't so bad and when the water is off color. All the colors of the spectrum in the streamer world have been good…because its spring:) White, Black and Olive have been the productive colors. The sculpins, dace and little minnows are what you are trying to mimic with your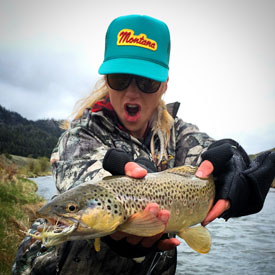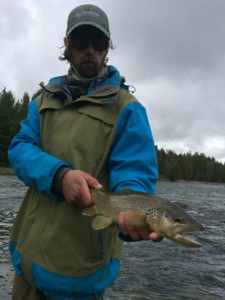 streamers. The scuplin is a staple in the brown trout's diet and it will chase it down and eat it if the opportunity is safe and looks good. Check out Kelsey with her nice brown on a white and gray streamer… killer fish face Kelsey!! Who says this is only for the boys?? As you can see, the stoke is at an all time high! I hope to see you all as the season drifts on and on and on…..get out there!!! Happy Fishing!!! -DanG