The fishing has been excellent for those who have been on the Upper Madison River from Quake to Ennis Lake. The cfs has been steady around 1,200 at Kirby. The clarity is perfectly clear. The water is not off color, it's clear. I guided Friday and we caught fish from start to a 19" Rainbow finish. The Delektable™ Mega Prince, Hurless Stone in Gray and Olive, and both in the flashback versions, Lil' Spankers, the Lime and Orange Juice and a variety of streamer patterns have all been working. We switched to flashbacks when the clouds came. The dry fly bite has started and will only be getting better.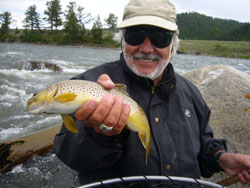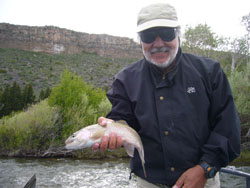 Thank Mother Nature for the moisture in June and the cloud cover that promotes such great flyfishing action. We have guided trips going out every week and will keep you all informed on the bite and hatches. If you need an up to the minute report call the shop 406-682-7525 or stop by.
There have been some big bug (Salmon Fly) spottings on the Lower Madison this week so we should be seeing them up this way in the next 10 to 14 days. Big and small Caddis usually take the lead before, during, and after the big bugs.
Dan