The flow of the Madison is 2,350 CFS and has been dropping for the last 6 days: Upper Madison Flow at Cameron. The water clarity is around 18 inches above the West Fork and around 12 inches below. It is snowing outside the Beartooth Lodge as this report is being written. Warm weather in the seventies is predicted for this weekend, which should start the dry fly fishing–big time.
If you don't already have plans to fish the Upper Madison this summer or fall, make them now. Once this runoff subsides–probably sometime in June– the fly fishing on the Upper Madison is going to be spectacular–especially the dry fly fishing.
Marty and Brad fished above the West Fork on Saturday afternoon, in the muddy, high flow water. Marty caught a lot of fish, fishing big nymphs tight to the bank. The hottest nymph was the #6 Delektable Braided Flashback Big Red. They were also hitting the Delektable Hurless Stone and Delektable Mega Prince. Marty caught his fish on a rebuilt 60 year old Granger bamboo rod that Dan and Marty had just finished rebuilding. Both of these were caught on the Big Red: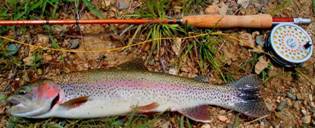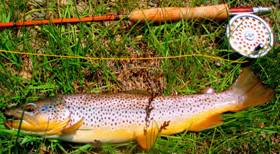 Fishing has been very good with nymphs between the lakes. Please be careful of the pea gravel spawning beds. The water is somewhat discolored, but the fish are feeding actively. Notice the color of the water behind fly fisherwoman Catalina and her Bow. This was caught on a #14 Hogan's Red Headed Step Child: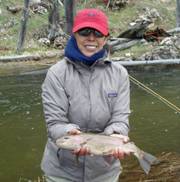 The streamer fishing has also been excellent. Two boats within the last two days have scored heavily on the Delektable Screamer Olive Black, and a full range of other colors and styles, between Lyons and Mac. Streamer fishing is also hot between Varney and Town.
Recommended Flies
To see the Delektables™ go to: Delektable Flies Gallery
Nymphs:
Delektable™ Hurless Olive, Gray #6, #8; Delektable™ Mega Prince #6, #8; Pat's Rubberleg Brown #6,#8; Delektable EggHead Midnight Fire #6, Delektable Big Red #6, Delektable Worm, Red or Brown #8; Red Wire Worm #6, #8, Hogan's Red Headed Step Child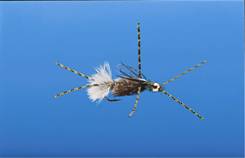 Delektable Hurless Stone Flashback Gray
Riverborn Fly Company www.riverbornflies.com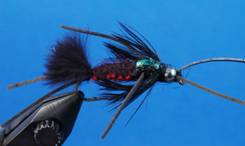 Delektable Braided Flashback Big Red
Riverborn Fly Company www.riverbornflies.com
Worth a Try: Delektable™ Lil' Spanker Pheasant Tail or Lil' Spanker in Red, Silver, Olive #18;#16,#14; Tungsten Beadhead Pheasant Tail Soft Hackle #20; Delektable™ Twinkle Midge and Zebra Midge #20,#18; WD40 Olive #20
Dries (not likely) :
Snowshoe Cripple BWO #18; Q's Loopy Cripple Stacker BWO #18; Snowshoe Baetis #20; Adam's Midge Cluster #20; Stalcup's Hatching Midge #20 (Split Wing Adams #12 ) March Brown Parachute #14; Klinkhammer #14
Streamers:
Delektable Screamer Olive Black, Olive and Yellow, Single and Double, #6, or your favorite pattern.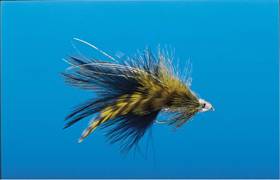 Delektable Screamer Olive Black
Riverborn Fly Company www.riverbornflies.com
Dan, Marty, Nancy, Brad