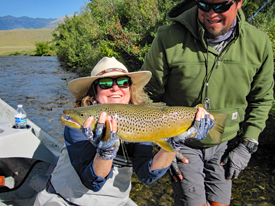 School is back in session, and it's been a nice quiet change in the Valley this week. The feeling of Fall has been drifting around especially with the variable weather conditions we have had this past week. We still have some Summer left and the Ants, Nocturnals, Hoppers and Caddis in the evening is the name of the game!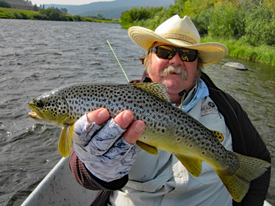 Streamflows this past week stayed consistent at 1,100cfs@Kirby and 1,200cfs@Cameron. These flows are just perfect this time of the year to float, find the fish and have an incredible time!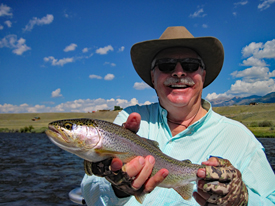 The Dry game has still been phenomenal with lots of action and some larger Trout mixed in (if you can get 'em); a Dry/Dropper set up has been a favorite. The Worm with a trailing Jig Hook Nymph has been strong this August. We are still waiting for the Streamer game to come any day now, especially with cooler nights predicted in the future.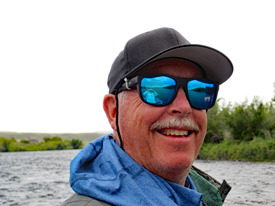 As always the pictures tell the best stories, especially those big smiles! Here at Beartooth Flyfishing we are open 7AM to 6PM serving the best free coffee in the Valley, the best selection of Flies and the greatest tales to go along with them! Come on by and let us help you have the best adventure possible!
Nymphs: RS2 Black or Grey #18-#20; BH Montana Bullet Black/Red #18; Delektable Guide Stone Olive/Brown, Black or Black/Brown #10; Delektable Lil' Spanker Red, PT, Silver or Blue #16-#18; Delektable Hammerhead GTBH PT, Prince, Hare's Ear or UV Purple #16-#18; Tungsten BH Jiggy Frenchie #16-#18; Formerly Known as Prince #14-#18; Delektable JH Tungsten Spanker Holo Red, PT or Holo Black #16-#18; Wire Worm Red or Orange/Red #4-#8; Delektable Prince Brandon #16-#18; Geppert's Mega Emerger #16-#18; Pat's Rubberleg Black or Olive/Brown #8-#10; BH Lightning Bug Gold, Pearl or Silver #14-#16; Geppert's Skinny Dip Black #14-#16; BH Guide's Choice Hare's Ear #14-#18; Hare's Ear Caddis Sparkle Emerger #16-#18.
Dries: Delektable Lil' Chubby 2 Tone UV Black, Royal, UV Cinnamon or UV Pink #14-#18; Delektable Halo Royal or Mo River #16-#18; Delektable Chubbyness Rootbeer, Royal, UV Cinnamon, UV Purple or Olive Brown #12-#16; Micro Water Walker Peanut, Pink #14-#16; Bloom's Stealth Ant Purple #14-#16; Yaeger's 409 Red #14-#16; More or Less Hopper Yellow or Peach #10-#12; White Cloud Hopper Tan or Peach #12-#14; Thunder Thighs Hopper Pink or Tan #12-#14; Delektable Flying Ant Red, Purple or Black #14-#18; Delektable Lil' Secret UV Pink or Goldrush #14-#18; Parachute Adams #14-#18.
Streamers: Delektable SS Jointed Screamer Olive/White, Black, White; Delektable Double Screamer Olive Black, Olive Black in Gold, Black, Olive, White; Delektable Single Screamer Black, Olive/White, Olive/Black, White or Olive #6; McCune's Sculpin Olive or Tan #4-#6; Zonkers Dark Olive, Tan, or Natural #8; Trevor's Sculpin Olive, Black, or Natural #4; Dali Llama Olive/White or Black/Olive #6; Coffey's Sparkle Minnow Sculpin #6; Conehead Zuddler Olive #6- #8; Flash Fry Olive/Natural #6; Mini Loop Sculpin Olive or Natural #6; Mini Sculpin Black #10.