Our first fishing report on the Upper Madison is from Dan and Craig. The bite is on and the river is on fire. Craig adds…
Here is a report from the friend of the guide reporting as a guest in the boat. Rumor had it that the weather was supposed to cooperate and be pleasant on the Upper Madison in early April. I guess that's all relative to what you are used to. A gentle breeze (20+) out of the south thankfully blowing down river to help the rower but not necessarily the fisherman! You can't learn so much about your casting on a calm day either. We started at McAtee and pulled out at Varney Bridge with numerous stops in between. "You can't be afraid to jump out of the boat and fish the spots" Dan explained but suggested you only do it with experience to be safe. "You're moving by so quick in the boat that you've only got one shot. If you're off just a little bit you're not going to catch that fish." And he was right and proved it. On numerous occasions we would stop near good water and make multiple drifts with our double nymph rig before finally locating a fish. Or we would make multiple drifts with no results, add some more shot and them BAM! "fish on" and repeat successive casts.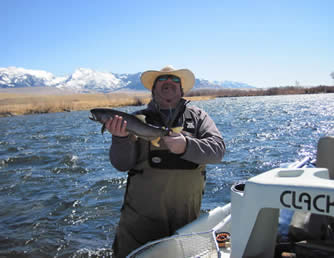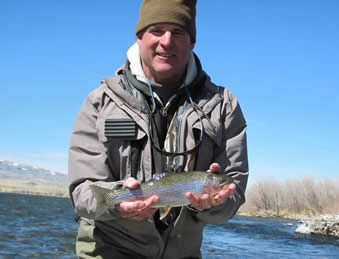 Previous guide advice was to use a leader roughly 1.5 to 2 times the depth therefor I was using
7 1/2 ft. leader. Dan recommended starting at 9′ and go up to 12′ especially when nymphing in order to get the fly down to the bottom. Also, throw away the bobber and try using one or a pair of teardrop shaped indicators. 3 – If you're not catching fish in a good spot then you should add weight especially this time of year when fish aren't going to move far. 4 – Don't strike with an upward hook set; swipe the rod perpendicular to the flow and drift of the line. 5 – Abandon the line mend and adopt the 'fold and follow'; less strain on the joints and you don't pull the fly off the bottom since you've got more control. 6 – When fishing two flies, go eye to eye, rather than attaching the tippet to the hook bend; doesn't effect drift of the fly in the water and enables a more free drift of the top fly. Only use the bend when fishing crayfish and streamers. 7 – Don't be afraid to jump out of the boat in mid-stream and fish good buckets or pocket water! Remember to use caution. (All I need to do is be able to identify those places). 8 – Keep my thumb on the top of the rod grip when casting into a 'beat your ass' wind! 9 – Pass the tippet through the eye of the hook twice when tying it on. 10 – Don't set the hook when there isn't a fish on; In other words don't assume there is a fish on just because the indicator is towing under. 11 – Although good for business, when you get hung up while drifting it takes less time to go to shore and retrieve the fly than it does re tying a whole new rig! 12 – Get those oar rights that automatically put the blade at the right angle. 13 – Don't walk away from he boat and assume the anchor will hold. 14 – Make sure you pack a fork when you pack a salad! 15 – Fish "Fly first"! That's just a few things off the top of my head from my day of learning, fishing, and–of course-catching.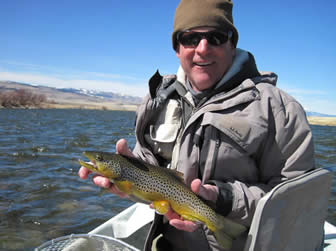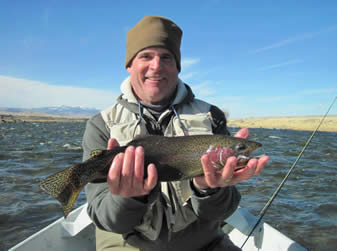 Water flow rates were good and still very clear. We fished the whole day with Delektable Hurless™ in gray and olive and Delektable™ Mega Prince Nymphs as the Skwalla stones become active and had constant action (when presented right!) with rainbows to 19" and a few browns including some gaudy ones and nice sized whitefish to boot. The water is still cold and the fish aren't moving far out of their feeding lanes for a passing nymph. The abundance of small fish in the 12" to 13" size range are good signs for some fun fishing throughout the 2012 fishing season here on the Upper River and I can't wait to get back out!
Dan adds that it was great getting out fishing with Craig; springtime in the Rockies is my favorite. Game on, get out there and have some fun.
Craig and Dan