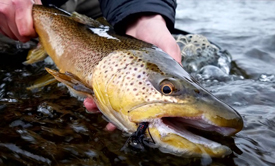 As of a little over a week ago all fishing access sites on the Upper Madison are good to go, other than Ennis bridge of course which will need some repairs after this winter's river gorge through town. The current forecast on repairs at the Ennis Access is around April 18th. Spring is knocking on the door throughout southwest Montana and now is your chance to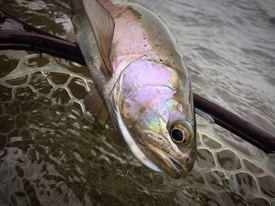 take advantage of some truly great fishing conditions. We're seeing fish responding to smaller streamers and they're spreading out throughout the river, no more winter style slow and low fishing but we still aren't seeing much success stripping the big stuff. Delektable Single Screamers and Sculpzillas in olive and natural colors have been working best for me but th ere are plenty of patterns out there that'll work, just keep it in that size and color zone.
We have had some early guide trips go fishing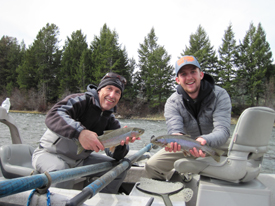 with really good results. Brandon and Gunnar got folks into some nice trout. With these trips and other reports, Nymphing has still been the way to get 'em with stoneflies still seeing the most action. I wouldn't recommend going to the river without a few Delektable Hurless or Mega Prince Stones in Olive, sizes #8 and #10 for those skwalas that are starting to move around. Keep in mind our Skwalas remain underneath while on some other rivers like the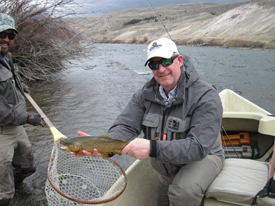 Bitterroot they emerge to the surface. Under the larger bug, you'll want a small and flashy mayfly nymph or even a caddis nymph. Something like a Lightning Bug or a Delektable Lil' Spanker, silver, olive or purple in a #14, #16 or #18. And as always, if all that stuff somehow fails ya tie on a goo  d ol' worm. Worms are working well. We have heard some killer reports on them below Varney Bridge. We have also had reports of results on Trico's and Midges which are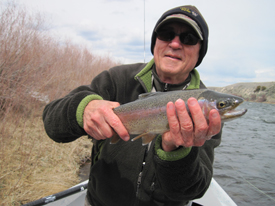 popping in the middle of the afternoon. Most have had better action on the wet versions compared to dry.
For those of you that want to stick to the surface stuff the best reports of dry fly action have been coming from the three dollar and raynold's pass area. Midges are still the name of the game but bwo's are just around the corner! If you get sick of trying to locate your size 22 dry fly while its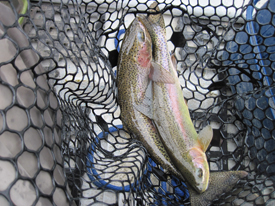 drifting it's never a bad idea to try to tease a couple up with a dry skwala imitation.
We're starting to get reports of some rainbows starting to spawn in certain sections so keep an eye out and keep clear of any redds!  Be sure to stop by the shop and share some fish stories and enjoy the spring weather!! Brian and Kevin
.