Yes, it is snowing at Beartooth Flyfishing.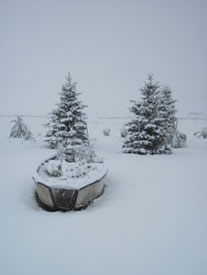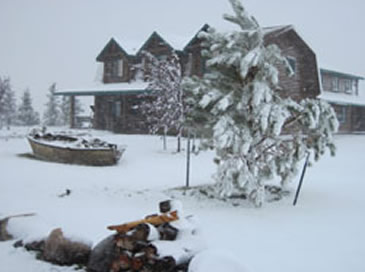 September 26, 2009
Madison River, Montana. A day of float fishing on the Madison River with my partner (we shared the float) Brian and myself, "Grandpa" John, Chairman of the Board of Beartooth Flyfishing Shop and Lodge, one of the finest fly shops in Montana with some of the best guides on the planet and one of the best fly tyers and designers of flies, my son, Dan Delekta, owner of Beartooth Fly Shop and Lodge with his wife Nancy, also an excellent fly fisher.Only a proud father and trout slayer could write this report.This Nov. will be my 87th year on the planet and I still feel like a kid fishing.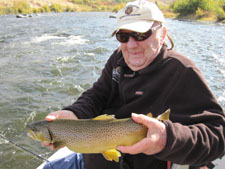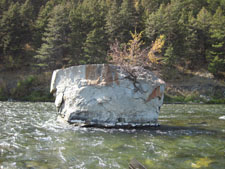 Enough of the talk and back to the float trip with our excellent guide Marty. We had a great day fishing. Grandpa John caught the biggest of the day, a huge 20" Brown Trout. We also caught a bunch of Rainbows, Browns, and Whitefish in all sizes up to 18". The flies that worked included Shiela's Sculpin #4, Pat Rubberlegs Brown #10, and the Delektable™ Lil' Spanker in Silver #18. All in all it was a great fishing day on the Madison River.
Grandpa