Father's Day fun on the Madison River! … I had the pleasure of guiding Paul and Kevin on Sunday, and a good time was had by all.
The weather was similar to my previous float, with on-and-off rain showers and some fairly stiff wind. The rain was also throwing some color into the river from the creeks, but it had no ill effect on the fishing. The trout were hungry and ready to play.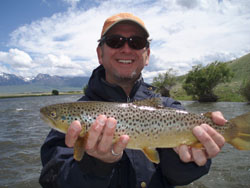 The fishing in the early morning was a bit slow, but the guys picked up some quality fish while wade-fishing selected prime holes. After a pleasant shore lunch, the fishing from the boat picked up. The latter part of the float, especially as the sun started dropping on the mountains and the light started fading as evening approached, the guys consistently scored on quality fish. A perfect ending to another great day on the Madison!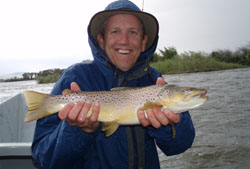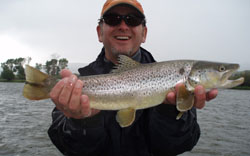 Because of the varying conditions, a wide variety of bugs caught fish, including the Delektable Screamer in Black/Olive and White, #10 Pat's Rubberlegs in Tan/Brown and Brown, #16 Delektable Lil' Spankers in Red and Blue, #14 Serengold in Rootbeer and #16 Delektable Lime Juice: Delektable Flies Gallery
Marty "The Montajun" Authement