What an incredible day! Dan and Nancy having a day together on the river in the summer is a rare thing for sure. I have been updating these reports for all our guides who get our there more often than me, the shop rat, and I really wanted to test what Dan meant by the river being "On Fire". Well, he was right. We had a great day. We rowed each other into some really nice fish.
The fish were on the bite so good it was downright giggly. Yeah!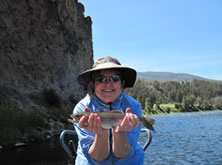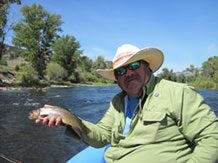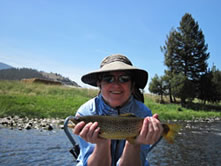 We started off with Rusty Spinners and they liked them for a while. When it got warmer out the hoppers were all over the place so we tried them and the fish loved them too. The fish were rising to the flies with full body leaps. It was really fun. Then we could see the spruce moths out and switched to the Delektable Twisted Baby Tan/Brown and the Tarantula in Gold. They wanted the Baby like you can't believe and sometimes the Tarantula too. I definitely missed a ton of hits and landed so many I lost count. I had two great events at the end of the day. I caught double Rainbows on dries and landed them thanks to Dan's netting skills and then had a huge Rainbow that got away because I had personal problems with my line.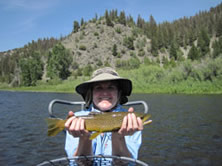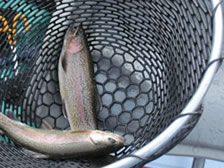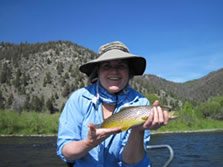 It was a terrific day and my sweetheart got me into a ton of trout. I caught Browns, Westslope Cutts, Rainbows, White Fish, and Grayling. Thank you Dan.
Love,
Nancy